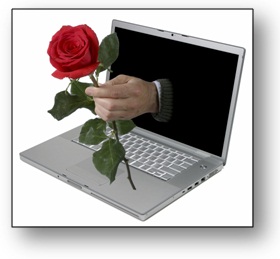 Can a Christian participate in Internet dating/online dating?  Well, we've looked at the issues of SECURITY and PREPARATION from the viewpoint of a Christian single.  Now it is time to ask:
HOW IS MY WITNESS FOR CHRIST?

Ok, you have your prose and (maybe) poetry all written out.  You have your photos ready and annotated (if needed).  Here is your reality check:
Will everything I prepared line up with my relationship with Christ?
    OR
Will anything I prepared harm my witness of the Kingdom?
This is critical.  Many sites, in their profile construction, have a means for you to indicate your religion/faith.  If you are a Christian and you are looking for another Christian (which I would expect you are) then you need to make sure that both your faith and your online behavior line up.  That doesn't mean you have to look dull and Amish online.  It DOES mean you have to walk and talk like a follower of Christ.
For instance, on Match.com, you can state your religion as well as indicate what you are looking for in terms of another's faith.  The selection covers a wide range.  Leave it blank on your profile or on the list for your desired features of a match and you are telling folks that your faith is NOT important.  Same thing if you just select "Spiritual".
Also, there are a lot of folks who indicate interest in Christians for many reasons other than their own faith.  Sometimes a "troll" may say they are a Christian because they think Christians are easy targets.  Be careful.
Make sure that all of your interactions (chat, e-mails, even dates) do not compromise your witness.  It may be that the other person is actually lost and that your FAITHFUL witness could be used by the Lord to lead them to salvation!  You may also meet a "back-slidden" Christian that might be brought to repentance through your stance and commitment to Christ's boundaries!
Here is a TO DO LIST for you in this regard:
Take a few moments and WRITE DOWN your online boundaries: What you will talk about, what you won't talk about.  What information will you provide right away versus what you will wait to reveal, especially where security might be impacted?
Seriously consider how you will remind yourself of these boundaries.  Is there are verse that speaks to you that you can post next to the monitor?
Always pray for protection before going online (a good idea for non-dating sites, too!).
Think about your vulnerabilities.  This may include "sensitive subjects" as well as subjects where it is easy for you to just "run off at the mouth" and thereby lower your barriers. That leads us to….
A FINAL WARNING
Chatting, e-mailing, and texting seem to rapidly clear barriers to intimacy, especially barriers that NEED to be there.  It is far too common for people who are online to rapidly go from talking about the weather to sharing intimate matters.  Typing on a keyboard can often prevent us from remembering that there is a STRANGER at the other end.
BE ON GUARD!
Those types of discussions are best left to when the relationship has matured and you are considering engagement and marriage.  They are not appropriate for the dating phase.  And, they should NEVER be a form of sex/cybersex.
As we have seen, online dating may be a viable alternative to "real world" dating in the 21st Century for many, including Christians.  Just make sure you are thoughtful, prepared, and faithful!
AND PRAY CONSTANTLY!
For a discussion on "hook-up" sites, check out: Sex, SPOUSES, and the Internet – Part 5: Hookin' Up!
Check out these other popular posts:

Help us continue to educate & equip families to be Internet safe and morally pure in the 21st Century!
Click the

DONATE NOW

button to make your
tax-deductible contribution, now!