The KINDLE!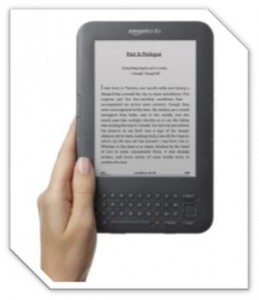 Amazon's new e-reader (along with other e-readers as well as the Apple iPad)  just may push us over the brink to the fabled "paperless society".
The problem is, these "electronic books" have few parental controls.
Let's look at the KINDLE and see what parents need to know about it before Santa brings the kids one.
First off, let's get acquainted with the KINDLE.  Here are some of the high points:
Stores books in flash memory
Can view PDF files that you download from your computer via data cable
Has WI-FI connectivity to the Internet, with some models also having 3G capabilities, as well
Shows books on "electronic paper"
In addition to text, the KINDLE can display photos, albeit in grayscale (black and white)
Users can group different works into "collections", such as SCI-FI, COMPUTER STUFF, BIBLE STUDY, MUSIC HISTORY, etc.
Most material purchased via the KINDLE STORE can be used on multiple KINDLE devices, including iPods, Android phones, etc.
The KINDLE is designed to work primarily with content purchased from AMAZON.COM's online digital book store called THE KINDLE STORE, although other content can be added.  The user sets up an account on Amazon.com and then can either purchase books via the web from their computer, or they can surf Amazon.com directly on the KINDLE.  When purchased via the web the content is automatically downloaded to the KINDLE when it is next turned on and connected to the KINDLE STORE.
The problem is that there are no parental controls that I can find that control what your child can download to their KINDLE.  And the need for control is there.
I am writing this article on 11/7/2010 around 1400CDT. At this time the following searches in the KINDLE STORE had these results:
"erotica"  – 

20,484

results, including some with photos
"sex" –

9,526

results, including some with photos
"erotic" –  8,705 results, including some with photo
"BDSM" –

1,749

results  (BSDM = Bondage, Discipline, Sadism, Masochism)
"incest" –

670

results
"rape" – 490 results, the 1st of which is "The Case of the High School Rape Club"
"group sex" – 425 results
"porn" – 401 results, both fiction and non-fiction
"XXX" – 41 results
Obviously there were search terms I could not report on due to propriety.  But, you get the jist of it:
There is a lot of explicit material available for the KINDLE!
Now, before you have a heart attack because Grandma just gave little Johnnie a KINDLE for his birthday, there are steps that parents can take to reduce the risk.  Here are a few basic ones:
A separate account should be set up for KINDLE purchases
That account should be controlled by a parent and all reports/receipts sent to the parent's e-mail address
The account is

NOT

to be linked to a credit card.  You should "load" the account via AMAZON.COM gift cards  (That limits your exposure/risk, financially)
Parents should become familiar with how to use a KINDLE (even if you have to ask your child to help you)
Regularly look at the list of books on the KINDLE.  Don't forget to look through any "collections"
Regularly look at the list of purchases made in the KINDLE STORE by accessing the account via the web
The KINDLE is a great device.  It has limitations, and, in my humble opinion, may never replace the feel of a "real book" when reading at night.  But, it is a great way to not only have a large collection of works in a single place, but to have that collection available on multiple devices (often up to 6) with only one purchase.  The navigation and use is easy to learn (even for those of us "over 40" folks) and the battery life is terrific (wish my laptop had HALF as good a performance, there)!
But, as with many of our new gadgets you can't just give a child/teen a KINDLE and walk away.  You have to be a 21st Century Parent!
So, if you get your child a KINDLE, just remember what we've looked at, today,and…
Don't forget to read PART II.
.
.
Check out these other popular posts:
Help us continue to help you!

Just $1/day ($30/month) WILL make a huge impact for tens of thousands of families…worldwide!!!!
Book a
TECH-SAFE HOME™ seminar for parents by contacting us at:
info@knightsquest.org
or 817.715.4074

This fall, Knights' Quest is launching the all-new

TECH-SAFE YOUTH program!

back-to-school event!!

Got a question?Send it in via e-mail!
Subscribe to Blogging The Knights' Quest via:



.
Need articles for your Church Newsletter? Contact us for permission to reprint our articles!
It's

FREE

for Churches and non-profits!
NOTICE:  All communications with Knights' Quest are held in strictest confidence, within the limits of the Law.