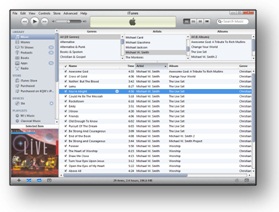 iPods…iPhones…iPads…
It is amazing how much Apple's top sellers have impacted our culture.  Joggers, students, housewives, shoppers.  You can't go anywhere without seeing people using these devices.
One common thread that they share is that they all use the iTunes software to purchase media (music, videos, etc.) or to load media that they have "ripped" from CD/DVD (hopefully disks they own).  When purchasing media they use the iTunes Store and this is where parents need to get involved.
There is adult material at the iTunes store, and parents need to understand the threat to children that this material poses and how to deal with it.  That's what we are going to do.
But, do not panic!  We will also talk about what to do about it without having to abandon APPLE!
Before you zip off a letter or e-mail demonizing Steve Jobs for this, we need to understand a few things about the types of media that are available in the iTunes Store and what level of material is available:
MOVIES: The "adult material" is not what is commonly considered pornography.  Mr. Jobs has been adamant and energetic at keeping hardcore pornographic media (especially movies) out of his store.  The "adult material" is material that is suitable for adults, and not children.  Plain and simple.  You might find titles that could be considered softcore, such as BASIC INSTINCT,  but you will not find DEBBIE DOES DALLAS or other explicit works.  The movies on iTunes have ratings, running the gamut from "G" to "R". We must remember that even religious works, such as THE PASSION OF THE CHRIST, can have "R" ratings, indicating that they are not suitable for children.


.

TELEVISION:

Things get murkier when looking at iTunes' offerings for television programs.  While you can certainly get old episodes of THE DICK VAN DYKE SHOW, LOST IN SPACE, and DALLAS, you can also purchase/rent  TV programs that have the rating of TV-MA (the TV equivalent of film's R and NC-17 ratings).  There are more and more of these being produced by "cable only" channels such as STARZ and SHOWTIME.  The TV-MA rating is not just for explicit sexuality, but also for graphic violence.  Examples are:  WEEDS (about drug growers/traffickers), SPARTACUS (gory battles, nudity, and explicit sexual content), and the ever-popular SEX AND THE CITY (sexuality).


.

MUSIC: There are songs with explicit/suggestive lyrics on iTunes just as there are on my local radio station, although the radio might have "cleaner" versions.  But, the advent of Internet radio changes the rules.  Fortunately, songs with explicit lyrics are tagged as "explicit".  This is an imperfect process, but consider how many songs the iTunes Store offers! (Boomers: Before you decry today's sexy lyrics might I suggest a review of some of the works of JEFFERSON STARSHIP, TED NUGENT, THE ATLANTA RHYTHM SECTION, and TOMMY TUTONE, among others.)


.

PODCASTS: What is a "podcast"? Well, if you used to listen to radio talk shows, you can now listen to podcasts.  They are, essentially, the same.  And, like radio (especially Internet and Satellite radio) the material can depart from "broadcast standards" into more mature material.  For example, there are podcasts dealing frankly with sex and sexuality much like books in the "relationships" section of Borders do.  There are also podcasts that include erotica (spoken word) and explicit "how to" discussions on sexual techniques.  Obviously, there is material unsuited for children here. (Note: You can even find MY podcasts there, too, for the SEX, KIDS, & THE INTERNET SHOW!)


.

iBOOKS: Using an iPad, iPhone, or iPod TOUCH a person may access the iBook Store, a separate section of the iTunes store.  Here are works of all types, and all types of content.  It is important for parents to understand that material inappropriate for children can be found in both non-fiction works (even scholarly works)  and in fictional works.  This is not limited to "romance novels" and "thrillers", however.  The iBook store contains a large amount of erotica that covers the entire spectrum of sexual expression, orientation, and activity.  There is an appreciable amount of erotica that is completely free.


.

APPS: These devices use "apps", or applications, to do just about everything.  There are "adult oriented" apps in the App Store.  These include items such as as sex manuals, medical information, and sex games (such as virtual sex dice).  Like many other items in the iTunes store, these are not suited for children.  Fortunately, Apps have ratings, just like movies and TV shows.


.

AUDIOBOOKS: The last category of media is that of audiobooks.  There is a great selection of books in the iTunes store, but it does include both fiction and non-fiction that is inappropriate for children.  These are not rated, unfortunately, but PARENTAL ADVISORY labels are in use.
So, what does this mean? Should parents scoop up iPods and other devices?  Should we eliminate iTunes on our computers?
NO!!!!
The iTunes Store serves the entire public and, as such, caters to a broad spectrum of interests.  For many items that children should not get a hold of Mr. Jobs has provided parents with great parental controls.  They don't catch everything, but then, nothing does.  But, the iTunes store is just like Barnes & Nobles, or Borders: There are sections in those stores where children should not shop, too!
Don't panic!  Just be aware of what's out there and what's on your children's iTunes.  Fortunately, for parents, if you are going to use any "iDevice" to play media you will have to go through the iTunes software to get it on the device, unless you download directly to the device.  Still, any downloads will be transferred to iTunes when your children next "sync" the devices.   All you have to do to check up on them is to open iTunes and look around at the various media that is loaded.  In fact, I devoted an entire chapter (#16, in fact) of my SEX, KIDS, & THE INTERNET Workbook to guiding parents through these steps!
If our children are to use iTunes, then we parents have to treat the iTunes store the same way we do the Mall: We need to be involved, and set boundaries.  Keep in mind that there are vulnerabilities in any "store". Just read my article entitled
Amazon KINDLE: What Parents Need To Know – Part I
Coming up:  iTunes – What Parents Need To Know… Part II – Parental Controls, and Their Limits
NOTE: While I am not an Apple fanatic, I am a big fan of their products and their design skills.  I currently have two Mac computers, three iPods (one dead  🙁 ), and a 1st Gen iPad.  Other than that, I am in no way connected with Apple.
Check out these other popular posts:
Help us continue to help you!

Just $1/day ($30/month) WILL make a huge impact for tens of thousands of families…worldwide!!!!
Book a
TECH-SAFE HOME™ seminar for parents by contacting us at:
info@knightsquest.org
or 817.715.4074

This fall, Knights' Quest is launching the all-new

TECH-SAFE YOUTH program!

back-to-school event!!

Got a question?Send it in via e-mail!
Subscribe to Blogging The Knights' Quest via:



.
Need articles for your Church Newsletter? Contact us for permission to reprint our articles!
It's

FREE

for Churches and non-profits!
NOTICE:  All communications with Knights' Quest are held in strictest confidence, within the limits of the Law.