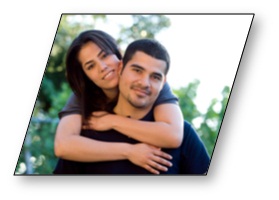 We all know how the Internet and other new communications technologies are impacting the lives of kids.  Whether it is online pornography, sexting with peers, or predators, the culture that our children exist in has expanded with new dangers that parents have to keep up with.
But, what about the impact on Mom and Dad?  We would be naive if we thought that parents and their moralities were not being affected by all these new capabilities.  We'd be more naive if we didn't consider how Satan is using these technologies against the family!
Of course, not all of the impact of technology has been negative.  Far from it!!!
So, as I start this new series, let's look at the potential GOOD side of: Sex, SPOUSES, and the Internet!
Back when I was in the Navy, on deployment, it took 4-6 WEEKS for a letter to make it one-way!  Today, our servicemen and women have e-mail, Skype, and more that provides instant communications!  Deployed warriors can, through video chat, "be there" for the birth of a child, or for a special meeting or event!
Civilian couples use these technologies, too, either to maintain  their relationships while apart or to "spice things up"!  Let's look at some activities that couples are engaging in and examine them from a Biblical point of view.  First,  let's look at:
SEXTING!
Sexting is the transmission of suggestive/erotic text messages, pictures, or videos via cell phone.  It has gained a lot of attention because kids are sexting without realizing the legal and societal risks.  But, what about married folks?
My friend, Artie Davis,  pastor of Cornerstone Community Church in Orangeburg, SC, recently did an online poll on married sexting.  The results, base on 900+ responses, were a bit surprising as can be seen in this graph:
One of the first questions that comes up is: "Is this sinful?"
Depends.  There is little within Scripture that describes the do's and do-not's  between husband and wife.  Sexting,  if BOTH husband and wife are each agreeable to it, can be completely permitted with a few caveats:
All transmissions are viewed only by the husband/wife involved.
Phones have passwords to unlock them, protecting the "sexts" from discovery.
"Sexts" are deleted after use.  Don't forget images/videos that may be online on your cell phone provider's account!
The issue of sin and marital sexting arises when:
The  material falls outside of the marriage. This one is self-evident.  The details of our love lives should remain as private as possible.  We are to protect the marriage bed.  That means we have to ensure that any "sexts" we sent, either in text, video, or image, are secure.  That means passwording your phone with a STRONG password/key, and deleting sexts after use.
Another thing to remember is to be SURE of who you are sending it to. A friend, who just got his first smart phone, was about to follow his CEO on stage before 10,000 attendees at the annual meeting.  Nervous, he sent his wife a suggestive text about going back to the room and nibbling on her ears, etc.  He then went on stage.  After walking off the stage, the CEO clapped him on the back, said "GOOD JOB!"  He then whispered: "But leave my ears alone!"  The CEO had received the sext, NOT the man's wife!  OOPPS!!!  I think the lesson is evident.
I also have been told of sexts accidentally being sent to couples' children, and to parents!   Be CAREFUL! Don't SEXT in a hurry! (Or when you are nervous!)
When one of the partners really does not feel comfortable with it. When one partner is compelling the other to do something that they are uncomfortable with it can easily fall into the realm of sin.  Now, it may be seen as a case of "they need to loosen up and try new things", but if the husband/wife is really uncomfortable, then the other spouse should respect that.  There should not be a FORCING of one's will upon the other.  Filter things through 1 Cor 13, OK?


.

When one of the partners actually considers it to be a sin, it is. Christians are all at different places in our walk with Christ.   It may be that one spouse does not consider sexting to be a sin and the other does. The one who does IS SINNING if they participate because they are making a heart-choice to do what they believe is WRONG, whether or not it actually is. Instead, couples should pray and discuss this, and any other bedroom issues, and not force or cajole the other into violating their conscience.


.

When sexting becomes NECESSARY for a couple to enjoy physical intimacy.  This is when it becomes a fetish.  Couples should, therefore, make sure that sexting, especially when it is a substitute for intimacy, is an infrequent activity.
Sexting, within the above parameters, is not a sin in and of itself.  Kept safely within marriage it can add little bit of spice or act as substitute for physical intimacy when couples are apart.
The important thing is to examine our hearts and ensure that we protect our marriage and our spouse from sin, and from disclosure.
You might also want to read:  Marriage, Sex, and the Pistachio Principle.
Well, that's Part I on Sex, SPOUSES, and the Internet.  You can check out Part II right HERE!
Share your tips/tricks by leaving a comment!
Check out these other popular posts:
Help us continue to help you!

Just $1/day ($30/month) WILL make a huge impact for tens of thousands of families…worldwide!!!!
Book a
TECH-SAFE HOME™ seminar for parents by contacting us at:
info@knightsquest.org
or 817.715.4074

Add the

TECH-SAFE YOUTH™ program to educate youth about the Biblical purity in our technologically driven world!

Got a question?Send it in via e-mail!
Subscribe to Blogging The Knights' Quest via:



.
Need articles for your Church Newsletter? Contact us for permission to reprint our articles!
It's

FREE

for Churches and non-profits!
NOTICE:  All communications with Knights' Quest are held in strictest confidence, within the limits of the Law.