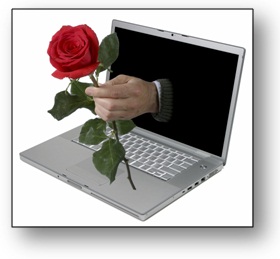 Online dating is a fast growing way for  folks to connect.  In fact, 20% of marriages since 2010 have been started online.  So, how should Christians approach this new social scene?
Well, as we mentioned in the last post, we have three primary areas of concern with regards to Christian online dating:
SECURITY

PREPARATIO

N

YOUR WITNESS:
Today let us look at the are of SECURITY!
When you join an online dating site you are going to be putting information out there for everyone (on the planet) to see and have access to.  Therefore, it would be wise to give some thought to both your physical security and your digital security.  Here are some do's and don'ts:
Do NOT use your first or last name as part of your screen name.
Do NOT use your BIRTH DATE or your ZIP CODE as part of your screen name.
Do NOT use photos that include your house number or place of employment.
Do make sure your screen name doesn't have any unintended meanings, etc.
Do be honest in your profile.
Do have a strong password on your account. (See my post: PASSWORD: It's Not Just A Game On TV!
Do consider the things that you post and that you communicate directly (chat, e-mail, etc)  in terms of premature release of personal information.  It's easy to get "too comfortable" with someone at the other end of a keyboard.
Do consider that folks you know might one day access this info (friends, family, ex-es, co-workers, etc.).
In Today's world, it is a fact of life that we have to be careful.  Remember, there are tens of MILLIONS of people on these sites.  That will include the Good, Bad, and Dangerous.  Of course, non-online dating has the same risks, but your personal information travels slower, and not as far in the real world.  Consider that you wouldn't put a lot of personal info on postcards and randomly pass them out, so why do that online?
What about actually meeting the person you connected with online?
That is another area where security is important: YOUR SAFETY!  Here are some fundamentals for the first date:
NEVER give an online connection your address or phone number until after you know who they really are, and have met in person, and confirmed who and what they are.
Always arrange to meet the individual at a public place.  Provide your own transportation.
Make sure you let friends know where you are and who you will be with.
Watch your drink!
Have an exit plan in case you are disappointed.
I know, that sounds depressing, but these points pretty much apply to real-life first dates, too!  There are many articles that discuss the first date.  Remember, above all, you are one of God's children, representing His Kingdom!
Check out these other popular posts:
Help us continue to help you!

Just $1/day ($30/month) WILL make a huge impact for tens of thousands of families…worldwide!!!!
Book a
TECH-SAFE HOME™ seminar for parents by contacting us at:
info@knightsquest.org
or 817.715.4074

This fall, Knights' Quest is launching the all-new

TECH-SAFE YOUTH program!

back-to-school event!!

Got a question?Send it in via e-mail!
Subscribe to Blogging The Knights' Quest via:
NOTICE:  All communications with Knights' Quest are held in strictest confidence, within the limits of the Law.