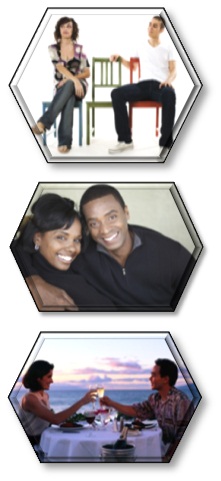 There are a lot of folks in the church who are "Single Again". Whether because of death or divorce, many people in Church who were once married are no longer married. Many of these folks are struggling with life after their marriages have ended. Even more, outside the Church, are struggling with the aftermath of relationship death.
Aside from all the legal, financial, and emotional considerations, there is the fact that these men and women who have previously experienced physical intimacy in marriage, with God's blessing, now must change their behaviors in order for their new single life to conform to His boundaries. This is extremely difficult in our over-sexualized society, especially since "they know what they are missing."
Let's take a look at this problem and an approach to addressing it!
How do Single Agains properly transition to a return to celibacy? How do they walk a sexually pure walk? How do they ultimately look for a new mate (i.e. how do they DATE), should God not have them remain single? And…
What is the Church's role in all of this?
These are important issues because we are not commanded to minister to and love "The Nuclear Family". We must do so to people in all stages of life, and in all situations, just as Jesus did.
Purity is difficult. Questions abound given the many communications technologies we have that are used for meeting people, dating, and accessing inappropriate material (i.e. pornography). Given the social morals of the 21st Century, those who again are single may have forgotten that God's call to sexual purity was not just for children and young adults, but for everyone who is not married. Plus, it has gotten pretty murky when you ask: "What's OK and what is out of bounds?" There is often an "I'm an adult and I'm not a virgin, so it's OK to hook up!"
If Christians are going to make a successful, Jesus-honoring transtion from marital purity to single purity, then it must be:
INTENTIONAL!
How is your church ministering to Single Agains?

Share what you are doing to help those
widowed and divorced live pure lives?


Let us know by leaving a comment!
Check out these other popular posts:
Help us continue to help you!

Just $1/day ($30/month) WILL make a huge impact for tens of thousands of families…worldwide!!!!
Book a
TECH-SAFE HOME™ seminar for parents by contacting us at:
info@knightsquest.org
or 817.715.4074

Follow up with the

TECH-SAFE YOUTH program!

back-to-school event!!

Got a question?Send it in via e-mail!
Subscribe to Blogging The Knights' Quest via:



.
Need articles for your Church Newsletter? Contact us for permission to reprint our articles!
It's

FREE

for Churches and non-profits!
NOTICE: All communications with Knights' Quest are held in strictest confidence, within the limits of the Law.