Parts I and II are found HERE and HERE.
While the Church is more public in its focus on homosexual sin, we have seen that there are far more STRAIGHT SINNERS in the world, and that they are both in and out of the Church.  In looking at this we saw that it is important to have Christ's mind in this matter and to follow His direction.
So, let's look at the first condition we may encounter.  Do not worry,  it's an easy one (sorta).
The first condition that Christians may encounter in terms of sexual sin is that of adults, who are Christians, engaged in immorality:  Adultery, fornication, pornography.
These are all clearly called sin in the New Testament.  (Acts 15, Acts 21, Romans 13, and more)
In Today's America they manifest themselves in various ways:
Premarital sex
Hooking up (casual sex)
Shacking up (living together outside of marriage)
Adultery
Consensual adultery (swinging, open marriage, etc.)
Pornography use.
Think about how you have heard people talk about these sins during your life.  I'll bet these sound familiar:
"They know better!"
"God will GET THEM for their sin!"
"They are a bad influence among our Church members."
"Those

DIRTY

people!"
"You'll never see ME talking to them!"
While understandable, in human terms, these types of reactions are SINFUL THEMSELVES. They go against Scripture.
They DO????  HOW???
By violating both the letter and the spirit of Jesus' teaching in Matthew 18:15-17
If your brother sins, go and show him his fault in private; if he listens to you, you have won your brother.But if he does not listen to you, take one or two more with you, so that BY THE MOUTH OF TWO OR THREE WITNESSES EVERY FACT MAY BE CONFIRMED.If he refuses to listen to them, tell it to the church; and if he refuses to listen even to the church, let him be to you as a Gentile and a tax collector. (NASB)
and Paul's instructions in Galatians 6: 1:
Dear brothers and sisters, if another believer is overcome by some sin, you who are godly should gently and humbly help that person back onto the right path. And be careful not to fall into the same temptation yourself.  (NLT)  (Emphasis added)

Just as Jesus and Paul did not condemn believers who were caught in moral failures, so we should not to condemn them, either!  Instead, if we follow the Bible's teaching, we are to be gentle and humble in guiding them to restoration. Make no mistake: Sin is SIN, and not to be ignored.  But we are called to a ministry of restoration, reconciliation, and encouragement, not to a life of judgment and condemnation.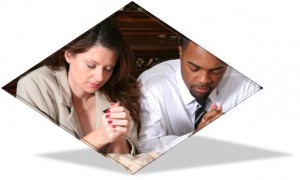 So, taking the Biblical approach to believers caught in sin begins with this 4-step process:
Before confronting the person, diligently seek God in Prayer, asking for wisdom with regards to WORDS and

TIMING

.  If you can, pray with your spouse or another believer who is mature in the faith.
After prayer, spend time in the Word and make sure that all you say is BIBLICALLY based.  It does no good to quote "that's how I was raised".  We should know the Scriptures.  That is the authority for our "mission".
Talk to the individual, gently and in an understanding manner, about their sin and the need for repentance. 

Offer to help

them get out of the situation.
Ensure that

YOU

do not fall into the same sin!  There is no more vulnerable Christian than the one who thinks that he/she cannot or will not fall to a sin.  Those who think that way typically get blindsided!
This is only the beginning.  Where you go from there depends on the response you get, but remember that Jesus spent TIME with those that He ministered to.
Regardless of the response we receive it is important that we ensure that our hearts remained aligned with Jesus' desire and goals, in this as in all things.  Unlike the lie that Satan is insinuated in our culture, God and Jesus are not looking down, watching our every move, just waiting for a chance to hurl a thunderbolt and turn us into "crispy critters!"  That is one of Satan's lies.
The TRUTH, you see, is that the believer who is caught in sin (and I believe that most of us are caught in some sin or another) is not a  target for Jesus' anger, but for His compassion and restoration to Him.
We must be very careful NOT to be one of those who DID incur Jesus' wrath:  The Judgemental, holier-than-thou PHARISEES!
Next: What about sinners OUTSIDE the Church?  PART IV is HERE!

What are your thoughts? What is your experience?


Let us know by leaving a comment!
Check out these other popular posts:
Help us continue to help you!

Just $1/day ($30/month) WILL make a huge impact for tens of thousands of families…worldwide!!!!
Book a
TECH-SAFE HOME™ seminar for parents by contacting us at:
info@knightsquest.org
or 817.715.4074

This fall, Knights' Quest is launching the all-new

TECH-SAFE YOUTH program!

back-to-school event!!

Got a question?Send it in via e-mail!
Subscribe to Blogging The Knights' Quest via:



.
Need articles for your Church Newsletter? Contact us for permission to reprint our articles!
It's

FREE

for Churches and non-profits!
NOTICE:  All communications with Knights' Quest are held in strictest confidence, within the limits of the Law.