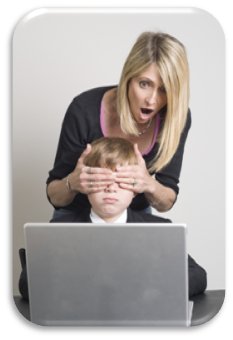 That's the answer to the questions:
"Why should I install parental controls and filters?
How bad can it be?"

When I talk about what I do, helping parents keep kids outta pornography on the Internet, I often get the following responses:
"C'mon, we had porn in our day, and it didn't hurt us!"
"Aren't you being a little too protective?"
Now, propriety and Christian concern for not tempting you prevents me from listing the bad, bad, BAD things that are out there. So, here's an alternative method to convince you how bad the porn on the Internet can be.
Keeping up with trends in technology and sexuality is difficult.  Sometimes I watch "documentaries" on cable, such as the G4 Channel's "WIRED FOR SEX", to see what is going on in the world.  Recently I caught an episode dealing with the changes in the adult industry in Europe.
During the segment on Amsterdam and its historical status as the "Sex Capitol of Europe" the producers interviewed Ms. Metje Blaak, Spokesperson, Prostitute's Union.  (Yes, that's who she worked for.  In Amsterdam prostitution is legal and unionized).  In response to a question about the Internet's impact on "business", Ms. Blaak responded:
"The Internet is naturally a bit pathetic because men see things on the Internet and they want it.  I was in the business 25 years and I never saw some of the degrading sex acts that are now commonly requested."
("Wired for Sex: SEX REPUBLICS", G4 Network, original air date 12/30/2007, emphasis added.)
When she said this I took note.  I mean, I had to ask myself:
"How bad is the stuff guys are watching on the Internet that even veteran
prostitutes working in the "Sex Capitol of Europe" consider it "degrading"???
We need to ask ourselves:
"Do we even want to RISK our kids accessing that kind of material?"
That is why, no matter how "good" you feel your kids are & how well you have talked to them, you still need to have filters on your computers/network.  Even good kids, with a lot of training, need the safety a seat belt provides.  The filters are "seat belts" for the Internet.
You might want to read my review on OpenDNS:  OpenDNS Filtering: A Review For Home and Church
How are you protecting your family?
Share this with us!
.

Check out these other popular posts:
Help us continue to help you!

Just $1/day ($30/month) WILL make a huge impact for tens of thousands of families…worldwide!!!!
Book a
TECH-SAFE HOME™ seminar for parents by contacting us at:
info@knightsquest.org
or 817.715.4074

This fall, Knights' Quest is launching the all-new

TECH-SAFE YOUTH program!

back-to-school event!!

Got a question?Send it in via e-mail!
Subscribe to Blogging The Knights' Quest via:



.
Need articles for your Church Newsletter? Contact us for permission to reprint our articles!
It's

FREE

for Churches and non-profits!
NOTICE:  All communications with Knights' Quest are held in strictest confidence, within the limits of the Law.