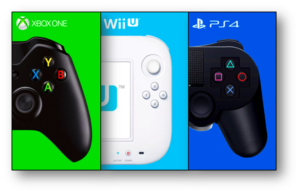 Part II of a multi-post series. You can find Part I HERE.
One thing that is certain about Christmas:  A ton of video games are destined for Santa's gift sack!
The game industry knows this and plans the release of games, game systems, and accessories with an eye to the end of the year.  That's why we just saw Sony release the Playstation Pro, and why Microsoft released their new XBOX ONE S machines a couple of months ago.
So, parents, what dangers to your kids lurk in this part of the electronics industry?  What do you need to consider before getting that new game, or game system?
Let's take a look!
Continue reading Black Friday, Christmas, and Tech 2016:
What Parents Need To Know – Part II