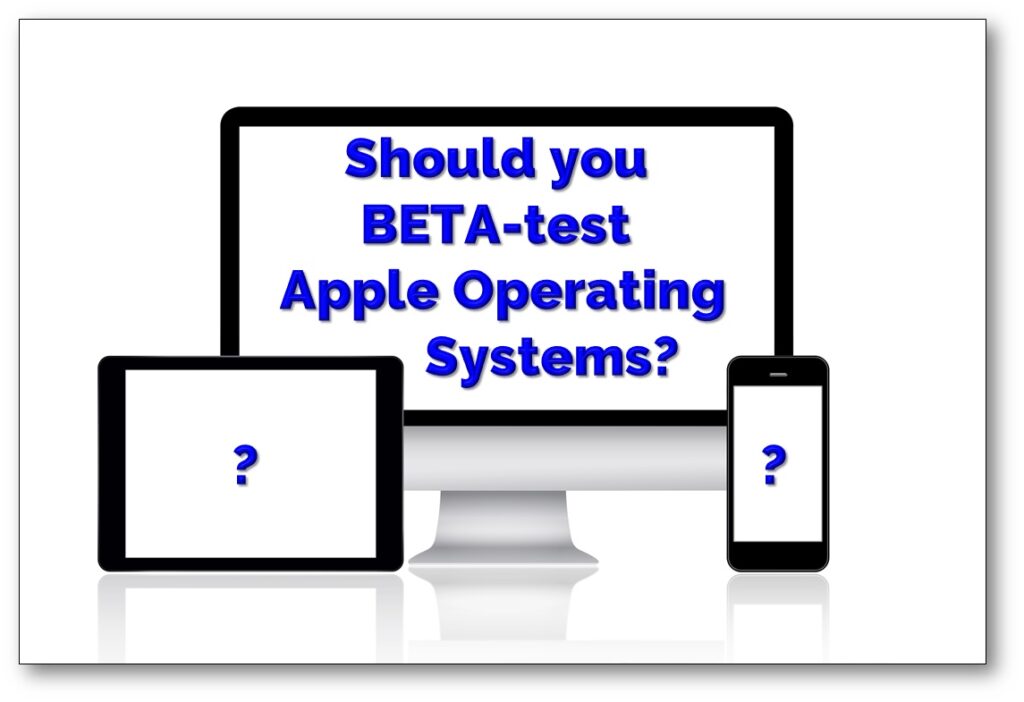 It's that time of year, again when Apple conducts public testing for it's new operating systems.
Apple typically begins a Public Beta Test of it's new operating systems for it's products in the Summer to support the Fall release of the new software! A beta test is the final step before releasing new software and consists of tests by folks who are not part of the development team.
Currently Apple is testing:
iOS 14 for iPhones and iPods
iPadOS 14 for iPads
macOS Big Sur (aka OS 11)
tvOS 14
watchOS 7
These public betas are very popular among those comfortable with experimenting with their devices. They get to try out "the latest and greatest" before it is released and even get to provide suggestions or report issues with the beta.
But, if you have been working on a TECH-SAFE HOME the question arises:
"Should you beta test Apple's new operating systems?"
In a word: "NO!"
Beta test software is "incomplete" and often does not work with other programs until a program's publisher updates their apps. There may be many iterations, or versions, of a package in beta test. Therefore many publishers will not release an update until the "Gold", or final, version is released. Until that time there are always bugs and glitches and compatibility issues that arise. Specialized software, such as parental control and monitoring apps, is especially susceptible.
The Beta Test Hazard
In some cases, everything might work just fine. But, the changes in the new operating systems could result in parental controls not working as planned. This might happen even (though unlikely) the built-in Apple Screen Time controls.
You can call the publisher of a parental control (or just about any other) app to find out if they support it. If you do, you will get the party line: They do not support their product on unreleased operating systems still undergoing development and testing. I've asked!
You might consider participating in a beta test. Doing so might make your children's devices become "unsafe". I recommend that you wait until Apple launches the final commercial release of these operating systems.
Another reason is this: Your child is most likely homeschooling right now, to some degree, due to the Pandemic. Software that schools may require your child to use may not be compatible with the beta versions of the operating systems.
When you do upgrade to the new OS you need to check your parental control apps to make sure settings having changed. You can make sure your apps are automatically updated by following these instructions on Apple's web site.
Don't forget to register for a TECH-SAFE HOME Webinar!