IT'S ALMOST HERE!!!!!!
CHRISTMAS!!!!!
Time to gird ourselves for the sales!
BUT, it is also a time for parents to consider the TECH-SAFE implications of their purchases and plan accordingly!
Let's start by taking a look at PHONES!
Many kids ask for a new, or first, phone for Christmas.  This is an area where Santa really needs to sit down and think about what he is doing!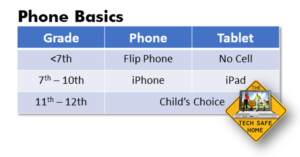 Today, smart phones give children unbelievable access to the entire world, as well as unprecedented power to affect their future and the lives of others. That's why I caution against automatically saying yes to a child's request for a phone.  Instead, the decision to let a child have a phone should be driven primarily by communication needs and their age/maturity.  It should NOT be driven by their wants and desires or the parents' desires to be cool or to keep up with the other parents!
In addition, wise parents make sure that they have the lock codes and passwords for the child's phones….BEFORE the child receives it!  This includes setting up one or both parents to be able to unlock the phone via biometrics (fingerprints or facial recognition).  Parents must also make sure the phones are locked down, with capabilities enabled and disabled according to the child's age and maturity.  Set up Apple Family Sharing (iOS) or Google Family Link (Android), as appropriate.
For iPhones, lock down the phones using the RESTRICTIONS (before iOS 12) or SCREEN TIME (iOS 12 and beyond).  For 7th & 8th graders, make sure you lock down the ability to add apps!  The ensures you will have the opportunity to discuss the pros, cons, and safety issues related to desired apps, especially social media!  If your 9th or 10th grader is mature enough, you might want to let them have the ability to add apps on their own.
For older children who opt for Android phones, make sure you install and configure QUSTODIO to provide a good set of parental controls.  Remember, though, that these are the ages (11th and 12th grades) where you need to start "loosening the ropes", teaching the child how to set their own boundaries and controls.  That way they are comfortable and experienced in setting their own boundaries when they leave home for college, the military, or work!
Before Christmas Day you should set up a central charging station in the home so that kids can plug in before going to bed.  The advantages of this are:
The don't stay up late playing with their phone.
The phone is charged for the next day.
The phone is available for parents to review or inspect, if desired.
And that's a quick overview for Santa!
Be sure to subscribe and not miss the rest of this series!
Next:  BEFORE SANTA COMES….. Part II: Game Consoles & Game Ratings
---
Check out these other popular posts:
Help us continue to help you!

Just $1/day ($30/month) WILL make a huge impact for tens of thousands of families…worldwide!!!!
Book a
TECH-SAFE HOME™ seminar for parents by contacting us at:
info@knightsquest.org
or 817.715.4074

The TECH-SAFE YOUTH™ program is our program for youth! It merges Internet safety and sexual purity in a single presentation!

event for the Spring!!!

Got a question?

Send it in via e-mail!
Subscribe to Blogging The Knights' Quest via:



.
Need articles for your Church Newsletter? Contact us for permission to reprint our articles!
It's

FREE

for Churches and non-profits!
NOTICE: All communications with Knights' Quest are held in strictest confidence, within the limits of the Law.