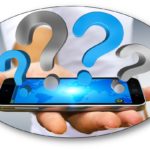 HOW did Black Friday get here so fast?  Seems like we were just in Back-To-School Mode!!!
Well, as Santa begins to stock his sleigh, there are some tech matters that parents need to consider, whether it's what type of phone to get Junior, or if Little Suzie gets the Kindle she wants.
There are many choices with regards to cell phones, including which "family" of phones is best for your child: Android, Apple, Windows.
So, let's look consideration parents need to know before going into combat….er…shopping on Black Friday!
Before we start, let's remember one thing:  Our children's brains are still forming, and the LAST part to finish is the part of their brains responsible for "wise decisions".  We have to always keep in mind that kids are KIDS and teens are TEENS, not little adults!  This should play into our choices as we raise them!
So now, let's talk phones!
Every kid wants the latest and greatest phone and, given the disappearance of pay phones, it's good for kids to have a phone so they can stay in touch with Mom and Dad.  Features or "coolness" should not determine what phone a child gets, but their age.  Here are my recommendations:
CHILDREN <12/13
Kids don't get driver's licenses and drive until they are at least 16; they get a bicycle.  In the same way they shouldn't have a smart phone until they are 13 or older.  Why? Because the smart phone gives your child access to the WORLD, and that means anything and everything.  Therefore I recommend children in this age group receive flip phones (yes, they are still sold).  This will limit their potential exposure pornography and predators.  You may feel that you want your child to have a smart phone so you can track them down via GPS in case "something happens".  The risk of damage posed by online pornography and other harmful materials overrides the benefit of GPS-tracking or other smart phone features.
Another advantage to a flip phone is that the child will have to show a certain level of responsibility and maturity before they get a smart phone.   They must "earn" the right to have a smart phone.  This also helps you differentiate between children of different ages by providing a difference in privileges as the children grow up.
Not having a smart phone can also keep the child from developing bad habits, like living with their head down in the phone all the time.  Without  social media (which they are too young for, anyway) and games the phone will grab less attention.   Of course, there is always texting.
You can find flip phones at most store that sell electronics or with major providers.  Some are pay-as-you go and others work with your plan.
Finally, should a young child really carry a $200-$600 phone?
CHILDREN 12/13 – 15
This is the first age zone where parents can consider giving kids a smart phone.  In fact, it will probably be needed in school.  The question is: WHICH PHONE: APPLE or ANDROID?
Just as we mentioned above, children's brains are still forming.  In this age zone, the rest of their body is also waking up, hormones are starting to emerge, and social interactions are changing and becoming more complex.  This makes is imperative that parents have control over what features and apps their children can access as well as access to communications with others.  For this reason I recommend that children 12-15 only have iPhones.  The iPhone comes with almost all of the most requested parental control features built into the operating system. ANDROID phones require additional apps that must always be updated and add to the cost.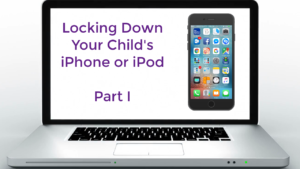 Regardless of which phone you give the child, before you give them the phone parents should do the following:
1.  Create an Apple ID or Google Account for your child under 13 via one of these links:  APPLE ID  GOOGLE ACCOUNT

2.  Set the account so the child cannot change the password.
3.  Set parental controls and make sure you restrict the ability to add/delete apps.  Activate any web filters you are using.  Our tutorial on setting parental controls on iOS will walk you though the Apple setup.  You can find it here or at the end of this article!
4. Set up a central charging station for charging ALL phones and tablets overnight.  Get the child used to having a "Screen-Free Bedroom".
After the child receives the gift, talk with the child about responsible use of the camera (vs. uses that get you in trouble), family rules on apps, the risk of in-app purchases, responsible texting, and the fact that Mom and/or Dad will always have access to the phone.
Again, because Apple devices come with extensive parental controls built-in, I recommend children in this age group be limited to Apple devices.
TEENS 15-18
Children entering their Junior Year in high school need to have their boundaries expanded.  These last two years that they are home are when we can let them start setting their own boundaries while Mom and Dad are there for advice….or rescue.  Too many kids don't learn at home and "go wild" once they leave the nest.
When it comes to phones I recommend giving teens in this group the choice of APPLE or ANDROID.  I do not recommend WINDOWS phones because, if parental controls/monitoring ARE needed they are not as available given the Windows Phone's small market share.
Regardless of the phone they choose several things need to happen:
1.  Make sure they are using an AppleID or Google Account that is separate from yours so their apps and purchases can go with them to college!
2.  They are still children under your roof, so Mom and/or Dad have access to the phone whenever they want.
3.  While parental controls are needed, consider bringing children in this age group into the discussion as the controls are configured . This helps you get them to start thinking of the dangers and consequences of having access to various technologies.
4.  Devices should still charge in a central location where the parents have access to the phone.  This maintains their bedrooms as Screen-Free Zones!  It also will help them sleep better!
Cell phones also provide a way to begin teaching children financial responsibility.  My children didn't get phones until they were able to pay their share of the bill.  They also had to pay any deductibles if they broke or lost their phone, and they certainly had to pay any fines at school for unauthorized use!  Having them on a month-to-month plan helps this.  Yes, one of my children called me "Daddy Evil" , but that same child (now an adult) says he understands and is glad I did it! (Yes, I almost fainted!)  You'll have to decide if this is a good idea for your family.
This leads us to another important item: INSURANCE.  Accidents happen, and kids will be kids and lose and break things, including phones.  So I recommend getting the replacement/upgrade/accident coverage for your child's phone AFTER they get to the Smart Phone Level.  This paid dividends with us.  And, yes, I included the insurance on their share of the bill!
Finally, check to see what parental controls your carrier provides.  Review them, and consider these are sufficient or do you need to examine other providers.
So, before you go shopping on Friday, either in the store or online, take some times to thoughtfully consider and discuss which phone is the best for your child.
Thanks for joining me for this article!  You might also find these articles helpful:
BE PREPARED, and stay up to date!
Click on the badges below!
And sign up for our newsletter via the mini-form on the top left corner of this page!
---
Help us hit our goal for #GivingTuesday!

You will help children around the world with your 1-time or monthly gift!

Book a
TECH-SAFE HOME™
Seminar at your church!  Contact us at:
info@knightsquest.org
or 817.715.4074

 THE TECH-SAFE MAN Seminar!

Learn to turn temptation into VICTORY!

Staying pure until marriage is difficult these days, made more so by all of our tech devices. TECH-SAFE YOUTH addresses both purity and tech issues
Subscribe to Blogging The Knights' Quest via:



.
Need articles for your newsletter?
Contact us for permission to reprint our articles!
It's

FREE

 for Churches and non-profits!
NOTICE:
All communications with Knights' Quest are held
in strictest confidence, within the limits of the Law.