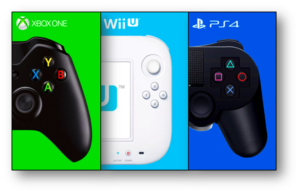 Part II of a multi-post series. You can find Part I HERE.
One thing that is certain about Christmas:  A ton of video games are destined for Santa's gift sack!
The game industry knows this and plans the release of games, game systems, and accessories with an eye to the end of the year.  That's why we just saw Sony release the Playstation Pro, and why Microsoft released their new XBOX ONE S machines a couple of months ago.
So, parents, what dangers to your kids lurk in this part of the electronics industry?  What do you need to consider before getting that new game, or game system?
Let's take a look!
There are two parts to this task:  Game consoles, and the games, themselves.
GAME CONSOLES
Before you can play a video game, you have to get a system, or console.  The big boys on the block are Sony, with it's PlayStation 3 and PlayStation 4 systems, and Microsoft with the X-Box and X-Box ONE systems.  Sony is definitely ahead of Microsoft, but both are far ahead of Nintendo Wii/Wii U in sales.
Each of these systems are great consoles and have widely varied catalogs of games.  ALL modern game consoles will connect to the Internet.  They also have many different features and apps.  The most important console features for parents to focus on are:
Parental controls
Availability of non-game Apps (Browsers, Netflix, etc.)
Just a few years ago the provision of parental controls on game systems was not an important matter, it seemed. That has since changed.  All modern systems have some level of parental controls right out of the box.  Rather than re-invent the wheel, here are links to some great online guides to parental controls on game consoles:
Game systems also come with the ability to access other services and products through the Internet.  This includes products like NETFLIX, HULU+, YouTube, and more.  It is important, therefore, to make sure that both the online gaming account that is used (X-Box Live, PSN, Nintendo Network, etc.) and the accounts for the particular service (NETFLIX, etc.) are under your control.  Many of these game systems apps provide access to content that children should be protected from.  Therefore, make sure that you have the Master Account log-in for the systems that your child uses, and that you restrict them to a sub-account.  Also, make sure you log on to the service's account, both on the web and on the device, and set any parental controls that might be available.
One of the best ways to cover this is to be part of the set-up process when the console is first unpacked.  Start by setting up the Master Account using an email address that you have exclusive access to.  Don't use your work email, just in case you change jobs or your I.T. Department changes the corporate email scheme.  The best thing to do is just create a "Master Family Parental Control" address using outlook.com or gmail.com.  If you are setting up an account for your child make sure you set it up on the same web site.
NOTE:  If you are setting up an XBOX system, then use outlook.com as Microsoft has an integrated parental control system that will carry over between Windows 8 – 10 and game systems.
System parental controls may, or may not, filter any web browsers that are installed.  The best way to filter these is by using a network-wide filter.  Knights' Quest highly recommends OpenDNS, which is free!  You can learn more about this option in this article:
VIDEO GAMES
Video games, themselves, are a lot like movies and TV shows.  Some are fine for kids and some would freak you out, even as an adult.  For that reason a system of game ratings has been developed and put into place to help parents.  The organization that awards the ratings is the Entertainment Software Ratings Board, or ESRB.  Their ratings are assigned based upon language, violent content, sexual content, and more.  You can check out the ratings here:
Game ratings are very important.  You, as responsible parents, MUST enforce them.  That will make you very unpopular at times, but popularity is not our goal. Raising healthy, well-adjusted children is.  For that reason it is important to restrict children to the games appropriate for their age groups.  Otherwise, it's just like letting them have access to ALL the premium channels on TV!  They WILL access inappropriate material, and they will be influenced by it.
In addition to having content-based ratings, the ESRB has added "interactivity" ratings that tell you if an online-connected game:
Shares information
Shares location
Allows players to interact, especially if they can have direct player-to-player communications.
These are important for knowing the risk with regards, not to content, but to the possibility of being connected to a predator.  Remember, teaching your kids good online safety skills is not optional!  We don't want to frighten them, but we need to teach a healthy skepticism.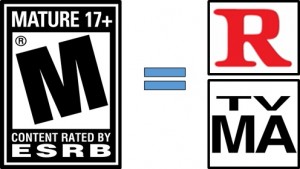 All of this means you have to have boundaries for games.  There must be limits on what  game a child can play, or even watch another play (like a big brother), based upon that game's rating.  This is no different than having boundaries for movies and TV shows.  Would you let a 10 year old buy or receive a copy of BASIC INSTINCT, or allow them to sit in the room if an older sibling is watching it?  The same thing goes for games! Set the boundaries, and enforce them!
So, put the word out to family and friends to make sure what ratings are acceptable in your home, and ask that they keep that in mind when buying presents for your children.  Who knows?  You might even inspire other parents by your boundaries!
Did you miss Part I?  Find it HERE. And don't forget to subscribe to the blog!  Part III is just around the corner!
---
Check out these other popular posts:
Help us continue to help you!



Just $1/day ($30/month) WILL make a huge impact for tens of thousands of families…worldwide!!!!
Book a
TECH-SAFE HOME™ seminar for parents by contacting us at:
info@knightsquest.org
or 817.715.4074

Add the

TECH-SAFE YOUTH™ program to educate youth about the Biblical purity in our technologically driven world!

Got a question?Send it in via
e-mail!
Subscribe to Blogging The Knights' Quest via:
NOTICE:  All communications with Knights' Quest are held in strictest confidence, within the limits of the Law.