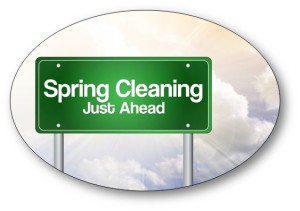 Spring is here!!!
Well, Mother Nature may not know that yet, in some parts of the country, but Spring is definitely here, and many of us have lots of Spring projects to get our homes and lawns ready for the rest of the year.
This is also a good time to do some digital Spring cleaning, too. Let's see what a TECH-SAFE HOME™ needs!
At my house Spring cleaning is carved up into projects:
Garage
Closets
Back yard & shed
Front yard
Etc..
Our digital Spring cleaning, likewise, can be broken up into chunks, as well:
System security
Online account security review
Device security
Parental control check up
Network security
User review
Hardware review
Let's take these one at a time:
SYSTEM SECURITY
You lock your house. You have the termite guy come regularly. You have flashlights. That's smart.
Your computers and your digital devices (phones/tablets) also need basic protections:
Make sure your OS is up to date by turning on automatic update. This ensures you always have the latest security fixes for your operating system. (But, you might want to turn off the update to Windows 10 until you can review its impact on your home.)
Renew your subscriptions for your anti-virus and anti-malware software if you use purchased versions.
After that, or if you use some of the free security software that is out there, make sure your security packages have the latest updates.
Run them!
Run a file shredding/disk wiping utility. When you delete files, they don't really go away until the computer writes over them with another file. Programs that shred/wipe go ahead an clean this up by writing over files to industry or Department of Defense standards. Don't have one of these programs? Check out GLARY UTILITIES FREE VERSION over at cnet.com!
ONLINE ACCOUNT SECURITY
We use computers and portable devices for banking and other important matters all the time. Unfortunately, identity theft is common these days, so it pays to change your passwords regularly. If you haven't done so lately, now is the time!
Make sure you are NOT using one of the passwords listed in this article, or similar.
If you don't have a system for remembering a different password for each account, read my article on passwords, or read this article on passwords, and then create a system! You can check the strength of your password using:
Make sure your IMPORTANT passwords are different from the others: Bank, email (since you use email to reset passwords), other financial accounts (credit cards, bills, etc.), any U.S. Government-related passwords (FAFSA, Social Security, IRS, etc.).
While changing passwords, make sure your recovery email address for each account is a current address and not one from your former Internet provider. Better yet, create a separate email account just for that use (with a strong password, of course). That way your everyday email addresses and accounts can't be used to reset passwords. For example: jsmithresetz@emailsite.com. Be creative, but write it down!
If an account offers two-step, or two-factor, authentication, strongly consider it, especially for financial accounts. Not sure that this is? Read this Wikipedia article.
If your computer or device offers fingerprint security consider using it, but set up at least TWO thumbs/fingers, one on each hand (in case you lose something…).
Work with your kids to change their passwords, especially school and game network passwords.
DEVICE SECURITY
Especially with the mobility of today's computing devices, you need to make sure the device, itself, is secure. Mostly, this is about tablets and phones.
Make sure your device OS is up to date!
If you haven't yet done so, set up your lock screen.
If available, use fingerprint or facial recognition security features. If using the fingerprint method, remember to set up at least TWO thumbs/fingers, one on each hand (in case you lose something…).
Change your unlock code, pattern, or picture.
If you are using a pattern to unlock the device, make sure it is complex enough to not be memorized by someone observing you. (Yeah, some crooks are that good….maybe your kids, too!).
Turn on

6-digit

lock

codes

if the device offers this capability.
Set up the "find my device" feature on your device, if it is available.
Set up to ability to wipe the device, remotely, if it is lost/stolen.
PARENTAL CONTROL CHECK-UP
This is also a good time to review your parental controls, especially since the kids will soon be home for the summer!
If you are using a separate email address for parental control matters (such as the recovery email address, above), change it's password.
Change the passwords for any filtering software or other set-up, such as for your OpenDNS account. (Read more about OpenDNS HERE.)
Review your children's ages and the level of parental control needed based upon their age and maturity.
Review the settings on your filters to see if categories need to be added/deleted.
Review any "white lists" or "black lists" you may be using.
Review parental controls on tablets and phones to ensure they are still in play, and to make adjustments based upon the child's age and behavior. (Watch our video on locking down an iPhone HERE.)
Change any PIN codes set up for parental controls on your cable TV boxes, or on any streaming boxes such as Apple TV, ROKU, etc.
NETWORK SECURITY
This is also a great time to review the security of your home network:
Change the password for accessing the set up menu on your router or gateway.
If you are using OpenDNS and have to use the "router behind the gateway" method, make sure the gateway's WIFI system is turned off.
On whichever device you are using for WIFI (gateway or router), change the SSID, or name of your WIFI network. Make sure the network name doesn't tell someone that it is YOUR network. (i.e. Don't use WIFI names such as SMITHNET, gatorfans (when your cars have U of Florida stickers everywhere, etc.), and so forth.
Change your WIFI key, or password.
Turn on your gateway's or router's GUEST network for visitors to use. Make sure it has a different password/key from the main networks.
Finally, if you are comfortable doing this, update the FIRMWARE for your gateway/router. This is an option on the menu.
USER REVIEW
For folks who still have computers, this is a good time to review authorized users:
Review who has access to your systems. Add/delete users as needed (a child who moves out may not need an account on your machine any more, etc.).
Make sure that you have TWO users with administrator privileges on each PC/laptop. (If you forget one's password, the other can reset it.)
Change all ADMINISTRATOR passwords on computers and laptops.
If you haven't done so, set up a non-administrator account for your regular use, so you don't accidentally leave an admin account logged on.
HARDWARE REVIEW
This is also a good time to look at the hardware in the home, and look ahead at what the family's needs might be in the coming 6-9 months:
How old are the computers, and will they need upgrading, or replacing, this year?
What new systems/devices may be needed in the coming 6-9 months (as children get older, more responsible, etc.)
What systems or devices might need replacing? (Do you need the new Apple TV box to replace your Apple TV V1.0?)
What devices are on your network, and should they be? (Are you still using that old ROKU 1 box? If not, take it off the network!). A network scanning utility can help, but it might require some sleuthing to ID all the devices. Some routers/gateway list connected devices by IP number and MAC address.
How's your printer doing? It is time to consider replacing it, now, before it dies in the middle of a term paper?
Are web cams disconnected when not in use, or are they covered if they are part of the system?
Do desktop systems have battery backups? Have you tested them? Is it adequate for your current system(s)? (All you have do to test it is to unplug the battery backup from the wall and see what happens. Did the computer stay on?) The backup should be able to supply the PC, monitor, and the gateway/router.
Well, that ought to get your TECH-SAFE HOME well on the way to surviving the summer. It may seem like a lot to do, but you can break it up by section or by having your spouse or friend help you!
Isn't your home worth it?
You might also find these articles helpful:
BE PREPARED, and stay up to date!
Click on the badges below!
And sign up for our newsletter via the mini-form
on the top left corner of this page!
Help us continue to help you!




Just $1/day ($30/month) WILL make a huge impact for tens of thousands of families…worldwide!!!!
Book a
TECH-SAFE HOME™
Seminar at your church! Contact us at:
info@knightsquest.org
or 817.715.4074

NEW FOR 2016:

THE TECH-SAFE MAN Seminar!

Learn to turn temptation into
VICTORY!

Staying pure until marriage is difficult these days, made more so by all of our tech devices.TECH-SAFE YOUTH addresses both purity and tech issues
Subscribe to Blogging The Knights' Quest via:



.
Need articles for your newsletter?
Contact us for permission to reprint our articles!
It's

FREE

for Churches and non-profits!
NOTICE:
All communications with Knights' Quest are held
in strictest confidence, within the limits of the Law.