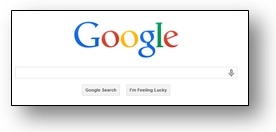 "How do I protect my kids when they are doing Google Searches?"
There's a good question that I get all the time, and for good reason. The Google 'bots (robots) that search the Internet for all the pictures, videos, information, and so forth, are VERY thorough. If a page, image, or video is publicly accessible (meaning you don't need a LOGIN and password to access the page) then Google will find and catalog everything it can find.
That's well and good if you are looking for a recipe or Super Bowl stats, but it doesn't work so well if the search term can have "adult meanings" and therefore will return adult results! (And you would be shocked to know what WILL return adult results!!!) I mean, you can access just about ANYTHING you can imagine, and a lot you probably don't want to imagine!!!
So, let's look at how parents can bring Google Search under control!
First off, we need to remember that most Google applications and features are all integrated together, to some extent at least.
What this means with Google Search is that you can lock your search page settings with a Google account. This account can be:
A gmail account (ex: you@gmail.com), or
An e-mail account that is hosted on Google systems but are not gmail accounts. For instance, Knights' Quest's web site and e-mail are hosted by Google on their servers, so all of my e-mail addresses based on my web site ( such as "buddy@knightsquest.org") are all "Google accounts".
This is important because that enables you to lock in Google's SafeSearch settings using your Google account! Let's look at all of this, step-by-step.
STEP 1: Get a Google Account
(Skip to STEP 2 if you already have one.)
Go to www.gmail.com
Create a new gmail address. Note: We will see in other articles how this one address can be used in many ways to help with your Parental Control efforts, and why that needs a new, separate e-mail address! It's a good idea to just reserve use of the e-mail for parental control functions.
Set a good password.
STEP 2: Set Your SafeSearch Restrictions
Go to www.google.com
In the lower right corner of the page, click SETTINGS
Click on SEARCH SETTINGS
On the page that comes up, click FILTER EXPLICIT RESULTS
Click on LOCK SAFE SEARCH
Enter the password for your Google account (gmail or one hosted on Google)
Click on the LOCK SAFE SEARCH button.
Wait while Google locks your settings across all domains (web sites, etc.)
DONE!
That was easy!
Now, like all things having to do with computers and the Internet there are some cautions and notes you need to know about:
When you input your password in Step 6, above, you not only provided security to your SafeSearch settings, but you also logged into your account. Don't forget to SIGN OUT (upper right corner of the page). Don't worry, though, if you forget because it will ask for the password again if anyone tries to change the settings, too!
You have to repeat this for

each web browser

that you have installed on the PC. So, you need to make sure the kids haven't installed another browser in order to get around your SafeSearch settings.
This methods locks SafeSearch only for folks using Google on

that computer account.

If you have 4 kids and they each have their own account on the computer then you have to log in to each separate Windows/Mac account and then lock SafeSearch, and for each browser. You do NOT need separate gmail addresses, though. NOTE: The means you can filter the kids but not filter Mom and Dad's account.
This should filter out the vast majority of PICTURES and VIDEOS. OpenDNS and other filters do not necessarily filter these with Google Search because Google may have the pictures and video thumbnails stored on THEIR computers, which are not among the filtered web sites.
This is the process for computers and tablets. The Google App on your phone, Smart TV, or other device may not have this capability, as I have discovered on my iPhone 5. (Send Google an e-mail about that, too!)
So, why go to all this trouble? Because your kids are worth it. Protecting our kids in the Internet Age is a constant battle, and it takes time. Plus, what would you rather do:
Spend 10-20 minutes setting up your SafeSearch, and then checking the computer from time-to-time, or
Spend a lot more time dealing with the damage done when your kids have unfettered search access, including arguments, therapy, and more!
Please leave a comment! Share your thoughts…or experiences!
Check out these other popular posts:
Help us continue to help you!

Just $1/day ($30/month) WILL make a huge impact for tens of thousands of families…worldwide!!!!
Book a
TECH-SAFE HOME™ seminar for parents by contacting us at:
info@knightsquest.org
or 817.715.4074

Add the

TECH-SAFE YOUTH™ program to educate youth about the Biblical purity in our technologically driven world!

Got a question?

Send it in via e-mail!
Subscribe to Blogging The Knights' Quest via:
NOTICE: All communications with Knights' Quest are held in strictest confidence, within the limits of the Law.