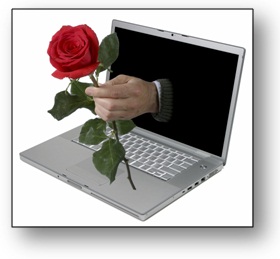 In Fiddler on the Roof, they used "matchmakers" to find a spouse.  Those still exist, but they are few and expensive (your mother and aunts do not count).  So, what is a Christian Single to do?  How are you going to meet someone that you might want to spend the rest of your life with?
Well, before you consider trolling bars, clubs, and the like (and there are Christians who do go down that route) make sure that you read my blog post, DATE LIKE YOU FISH! NO…REALLY!
Now with that  out of the way let's look at a new, 21st Century method of meeting MR./MISS RIGHT (as opposed to Mr./Miss Right Now!)
Let's take a look at ONLINE DATING!
'Way back in Ancient Internet Times…say…about 10-15 years ago, if you said that you met your current BF/GF online your friends would have looked at you funny.  Well, things have changed.  The Internet has not only changed our banking, shopping, and gossiping (Facebook, anyone?), it has also changed our DATING!  Just look at these statistics:
There are about 100 MILLION single adults in the US (44% of the adult population)
There are 120 MILLION registered adults on dating sites (some are on more than one and,unfortunately, some MARRIED adults are on dating sites).
There are over 13,000 dating sites out there, from general sites such as eHarmony, match.com, and chemistry.com, to specialty sites based on religion, city of residence, veteran's status, height, body shape, interest-based (Star Trek, Star Wars, Apple Computer lovers, political views, pets, etc.), and more!
It has been reported that one in five marriages in the 2010-decade started online.
With this being the situation I figured I needed to look into this new "world" and see how Christians fit in.  To do this, I created accounts and filled out profiles (no pictures, no personal identifying info) on mainstream sites and then sat back to see what happened.  Well, the systems kept sending me "matches" to my profile, so I examined the profiles of these matches.  I also checked out the profiles of  folks who popped up in searches that I executed to see a broader view (remember, these are LEGITIMATE dating sites and not the adult hook-up sites that I mentioned in Sex, SPOUSES, and the Internet – Part 5: Hookin' Up!).   I did not respond to any inquiries or initiate any contacts.  I just studied the various results and noted areas of concern and areas for consideration.  Lastly, my wife was fully aware of my investigation.
First, as I've mentioned in other posts, if you are married, you do not go looking for a date/match!!!!   Even if you are separated you are still married in the eyes of God and Society, and "Thou Shalt Not Commit Adultery!" still applies.  Even "just looking" is adultery (if you doubt that then I suggest re-reading Matthew 5)!  If you intend to honor the Lord as you transition to single life then you have to wait until your divorce is FINAL before trolling the web sites….or the bars.
Online dating is, basically, a way to input your likes, dislikes, interests, and so forth, and get matched up with folks that are deemed compatible or interesting (according to the computer).  In other words, it is the 21st Century child of the old "computer dating services" that we saw in America in the 1960s to 1980's!  The benefit is that you control both your information and how you initiate contact or others contact you.   While there are some free sites you really do have to pony up some cash to get all the features that you might want.
Next, it is easy to see that online dating really is MARKETING!  Let me say it again, differently: YOU ARE MARKETING YOURSELF…GLOBALLY!  This brings up three concerns:
SECURITY:  

As many as one out of ten online daters may be sex offenders, according to reports.  Although the more reputable sites have agreed (as of March 2012) to screen out sex offenders, it pays to consider security.  After all, it's YOUR safety!  Plus, you don't know if folks YOU know (work, church, etc) may be on the same sites!  Lastly, there is the ever-present concern about identity theft.


.

PREPARATIO

N:

  After examining literally HUNDREDS of profiles it was painfully obvious that many people were "just throwing something out there" with less thought than you would give a job search site like monster.com!  There were a number of folks whose profiles showed that they seriously considered what was put out there.  Those were VERY obvious.  But, they were definitely the minority!  Just as obvious were the folks who made profiles, sometimes using "liquid intelligence", as a friend of mine calls it.


.

YOUR WITNESS:  It was obvious that many Christians are out there, looking for love online. There is no problem with that so long as they aren't sinning or otherwise damaging the Kingdom.  It was painfully obvious, though, that many of these Christians had given ZERO THOUGHT to their witness and were posting pictures and profiles that didn't line up with their profession of being a  Christ-follower. Not by a

LONG SHOT!
So, if we're going to do this online dating thing right, we're going to have to think about it.
Next up: Part II – SECURITY
For a discussion on what I found when I investigated the "hook-up" sites,
check out: Sex, SPOUSES, and the Internet – Part 5: Hookin' Up!
Check out these other popular posts:
Help us continue to help you!

Just $1/day ($30/month) WILL make a huge impact for tens of thousands of families…worldwide!!!!
Book a
TECH-SAFE HOME™ seminar for parents by contacting us at:
info@knightsquest.org
or 817.715.4074

This fall, Knights' Quest is launching the all-new

TECH-SAFE YOUTH program!

back-to-school event!!

Got a question?Send it in via e-mail!
Subscribe to Blogging The Knights' Quest via:
NOTICE:  All communications with Knights' Quest are held in strictest confidence, within the limits of the Law.