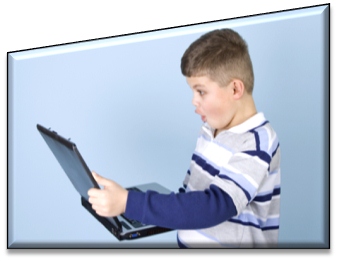 In my last post I talked about how you can become a porn star and have your kids find out about it. CREEPY!
But, what if you did not INTEND to become an Internet sensation?  What do you do?
What if your private images/videos are "released into the wild" without your permission, or even your knowledge?  What do you do?
It happens to the rich and famous, and to the folks down the block.  Supposedly private pictures and videos get compromised and suddenly there is a scandal.  It could be you, or your kids, who are suddenly famous.  After all, 28% of teens in America have ALREADY sent nude/inappropriate pictures of themselves over phones or the Internet!
What do you do? How do you address this issue? How do you do damage control on such an embarrassing crisis?
First off, if there is an undesired release of private material you need to obtain competent legal counsel.  By competent, I mean go in search of an attorney who is very familiar with issues surrounding electronic privacy and the law. Your tax or estate attorney is not the guy/gal to go to in this case as laws are still being made and interpreted!
If the files have only been passed around and not uploaded to a web site then your task is much easier.  Your attorney can work to get all copies (hopefully) under control (can you say: "Ker-CHING!!!!"???)
But, if the files are already on the net, the problem is more complex and much more expensive.  You have to track the files down and your lawyer will then need to legally contact every website hosting the material and inform them that the release of the file(s) is unauthorized and must be pulled.  (Can you say: "MEGA-Ker-CHING!!!!"???) The problem is that your lawyer's letters may remove them from the sites….at that particular point in time.  It is very possible that they could have been downloaded by "customers"  who will later re-upload them back to the Internet!
Digital files are SLIPPERY.  File names can be changed.  Files can be sliced and diced into multiple segments.  Once a digital file is out of your control it is unlikely that you will get 100% of the matter fixed.  There may always be a "rouge file" out there….for decades. But, you should do as much as you can to limit the damage!
You might want to keep this all in mind before recording that anniversary celebration for posterity!
I know of families who had to sell their homes and move because of this!
Check out these other popular posts:
Click on the workbook image to purchase the
SEX, KIDS, & THE INTERNET Workbook in the
Knights' Quest Online Store

Click on the image to request information about how you can host a Knights' Quest seminar.

Or you can contact me at: info@knightsquest.org
or by phone at 817.715.4074

Click on the iTunes Image on the left to subscribe to the

SEX, KIDS, & THE INTERNET™ Podcast!!!