You might want to read the earlier parts of this discussion:
"SINGLE AGAINs" – Part I: The Purity Challenge
"SINGLE AGAINs" – Part II:Transitioning To Singleness Due to Divorce – Dating
"SINGLE AGAINs" – Part IIIA: Your Purity Threat Assessment
"SINGLE AGAINs" – Part IIIB: Your Purity Threat Assessment
"SINGLE AGAINs" – Part IV A: Single, Social, and a Parent
"SINGLE AGAINs" – Part IVB: Single, Social, and a Parent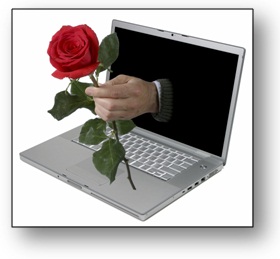 In Fiddler on the Roof, they used "matchmakers" to find a spouse. Those still exist, but they are few and expensive (your mother and aunts do not count). So, what is a Christian Single Again to do? How are you going to meet someone, someone you will want to go out with?
Well, before you consider trolling bars, clubs, and the like, make sure that you read my blog post, DATE LIKE YOU FISH! NO…REALLY!
Now that that is out of the way, let's look at a new, 21st Century method of meeting MR./MISS RIGHT (as opposed to Mr./Miss Right Now!)
Let's take a look at ONLINE DATING!
Way back in Ancient Internet Times…say…about 10-15 years ago, if you said you met your current BF/GF online you would have been looked at funny. Well, things have changed. The Internet has not only changed our banking, shopping, and gossiping (Facebook, anyone?), it has also changed our DATING! Just look at these statistics:
There are about 100 MILLION single adults in the US (44% of the adult population)
There are 120 MILLION registered adults on dating sites (some are on more than one and, unfortunately, some MARRIED adults are on dating sites).
There are over 13,000 dating sites out there, from general sites such as eHarmony, match.com, and chemistry.com, to more niche sites based on religion, city of residence, veteran's status, and more!
It has been reported that one in five marriages in the 2010-decade started online.
With this being the situation, I figured I needed to look into this new "world" and see how Christians fit in. To do this, I created accounts and filled out profiles (no pictures, no personal identifying info) on mainstream sites and then sat back to see what happened. Well, the systems kept sending me "matches" to my profile, so I examined the profiles of these matches, as well as those who popped up in searches to see what folks are doing on these sites (remember, these are LEGITIMATE dating sites and not the adult hook-up sites that I mentioned in Sex, SPOUSES, and the Internet – Part 5: Hookin' Up!). I did not respond to any inquiries or initiate any contacts. I just studied the various results and noted areas of concern and consideration.
First, as I've mentioned in other posts, if you are married, you do not go looking for a date/match, even if you are separated. You are still married in the eyes of God and Society, and "Thou Shalt Not Commit Adultery!" still applies. Even "just looking" is adultery! If you intend to honor the Lord as you transition to single life then you have to wait until your divorce is FINAL!
Next, online dating is MARKETING! Let me say it again, differently: YOU ARE MARKETING YOURSELF, GLOBALLY! That brings up three concerns:
SECURITY: As many as one out of ten online daters may be sex offenders, according to reports. Although the sites have agreed (March 2012) to screen out sex offenders, it pays to consider security. After all, it's YOUR safety!


.

PERPARATION:

After examining literally HUNDREDS of profiles it was painfully obvious that many people were "just throwing something out there" without even the consideration you would give a job fair! Many were also seriously considering what they said and posted, too. It was about 75-25 in my opinion.


.

YOUR WITNESS: It was obvious that many Christians were out there, looking for love online. The problem was that what they said or showed might not have been in line with their professing themselves a Christ-follower.
Let's look at these!
SECURITY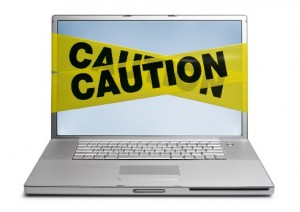 You are going to be putting information out there for everyone to see so you have to give some thought to both your physical security and your digital security. Here are some do's and don'ts:
Do NOT use your name as part of your screen name.
Do NOT use your BIRTH DATE or your ZIP CODE as part of your screen name.
Do NOT use photos that include your house number or place of employment.
Do be honest in your profile.
Do have a strong password on your account.
Do consider what you post and communicate directly (chat, e-mail, etc) in terms of premature release of personal information.
In Today's world, it is a fact of life that we have to be careful. Remember, there are tens of MILLIONS of people on these sites. That will include the Good, Bad, and Dangerous. Of course, non-online dating has the same risks. But, you wouldn't put a lot of personal info on postcards and randomly pass them out, would you? Then why do that online?
PREPARATION
The vast majority of the profiles that I reviewed seemed to be poorly thought out, or even just" thrown up there". I could tell by the way they talked about themselves and what they were looking for, or by the photos they posted.
Whether you are a Christian or not, you are seeking someone to date and, possibly, marry in the future (if the background check is good, right?). SO IS THE VIEWER OF YOUR PROFILE (hopefully)!!! Therefore, you need to market yourself WELL in order to attract the type of person you are hoping to meet. And remember: There is a lot of competition out there!
Consider all the work that you would put into looking for a job. To succeed and find a great job you put time and effort into crafting your resume, getting a suitable "interview suit/ensemble" ready, and practicing (at least mentally) what you will say.
Well, aren't you doing something even MORE IMPORTANT? You are looking for a new spouse! So, be intentional in what you are doing!
First off, you need to work on what you will say about yourself. It would be a good thing to sit down and write out how you would want to be described by a friend to someone they wanted to introduce you to. Be creative. Be fun (if that is your style). Be honest. Then get someone who knows you to check out what you wrote. Someone you trust, of course! Here are some "DO's and DO NOT's":
Do NOT talk about how hard this is. Everyone knows that and it sounds whiny.
Do NOT make yourself sound desperate or fake.
Do NOT make negative comments about your past relationship. If you're divorced, state that, but without calling your ex- a no-good-two-timing-whatever.
DO talk about the real you, and what is important to you (kids, pets, Christ, the Texas RANGERS, etc.).
DO feel free to be creative, if that is in line with your personality.
DO consider how to make

YOUR

profile break out from the pack!
DO indicate how long you've been single, if you are single again.
Secondly, while you are still sitting down, write out what you are looking for in a new spouse or, initially, significant other. This is also an important part of your profile. You probably won't find all those characteristics in your dealings online. That's why you'll go on dates! But, you it is essential that you determine what is important to you. To prepare for creating your profile you need to clearly know what you are, and are not, looking for. So, sit down and list what you think should be in these three categories:
SHOWSTOPPERS – These are hard requirements. Maybe they just can't be a REDSKINS fan. Maybe they have to enjoy TV comedies. Maybe they have to be an evangelical Christian, or a certain denomination. Maybe they can't drink alcohol at all, or smoke. Maybe you are a fitness fanatic and they must be, too! It could be that certain physical attributes are requirements (no short/tall/whatever folks). Just think, pray, and list your "showstoppers".


.

TRADEOFFS – These are the characteristics and interests you would like them to have, but it is not essential. This can include many things. YOU need to decide what some of them are, especially any important ones. Maybe it would be nice if they had kids, but not at home, but can you live with it if they have kids at home?


.

DON'T CARES – List out the things you just don't care about: Height, ethnicity, can they play a musical instrument, etc.
It is important for you to fully understand what you are, and are not, looking for. Take some time. If you have a best friend who really knows you then sit down with them and bounce things around. Another perspective often helps! Then, PRIORITIZE these lists!
This is also the place and time where you need to strongly consider how you will share your spiritual/religious expectations and desires, and how you will describe your own faith walk. Whatever you do, do not hide who you are! Be open and honest. It can help you avoid unpleasantness, too! (More than one friend has neglected this and suddenly been sent pictures/texts that were unwanted and inappropriate!)
Third, take the time to thoughtfully fill out the profile of the site you are joining. Carefully consider the selections you have to make, as well as what you get to contribute in terms of text. You will also have many selections to make. Don't just click your selections willy-nilly….THINK about them.
Fourth (and this could be in parallel with the first three efforts) you must be INTENTIONAL about what photos you are posting. Yep, you MUST have photos. Many folks will not even consider a profile without photos because it indicates you don't care, or that you have "something to hide".
The problem is, there are a lot factors in selecting photos. Reviewing those hundreds of profiles highlighted a lot of photo-related DOs and DON'Ts that were quite evident. Here are some of the most important, in my opinion:
DO use a picture that is in line with your faith.

Gals

: Pictures of you on your bed, in sweats or in lingerie, etc., should be avoided. You know how we guys think…

Guys

: Trust me, the ladies do NOT want to see profile pictures of you with your shirt off (unless you are busy water skiing, etc.). That is actually stated in MANY of the ladies' profiles! You'd think all of this to be a no-brainer, but it is not!
DO provide 5-10 pictures. Make sure you include at head shot and at least one full-body picture. Make the last picture one of the best, to end on a good impression!
DO have your children's faces blurred. It shows you care about their online safety.
DO make sure that your pictures are in focus, have adequate lighting, and are not blurred, and don't look like they are from 1985!!!! Yes, there were many, many photos that violated this one, even primary photos which were the first to be seen!
DO make sure that every picture you provide is large enough. Many of the pictures were too small to be useful, and what does that communicate?
Do include recent pictures with your children, if you want.
DO include one, maybe two, pictures of your pets, if they are a large part of your life.
DO include pictures that highlight any strong interests you have, especially any extreme ones like skydiving or piloting fighter jets! If you are a hardcore baseball fan, pictures at a game are fine! But, make sure that it is a good picture of YOU, and try not to have sunglasses on!
DO use many different pictures. One profile I looked at had 4 pictures, three of which were crops of the same image! Not good.
Do NOT use pictures you took of yourself in the mirror. This is a pet peeve of mine in general, and especially if you are marketing yourself. First, your bathroom/bedroom is probably not the ideal setting/background for your first visual impression and, secondly, it implies you don't have at least one trusted friend or family member who could snap a picture of you in a better setting and less dorky pose.
Do NOT use pictures that are more than 2 years or 10 pounds old! That's for both you guys and you gals. Show who you are…NOW! If you are on the dating sites for more than a few months, change up the pictures regularly. I saw some photo collections that spanned YEARS! Not good.
Do NOT use pictures of you and other men/women unless you annotate them. The assumption is that they are either your ex- or they are current/recent boyfriends/girlfriends/dates. If it is your brother/sister/aunt/cousin/etc., make that clear.
Do NOT use pictures where you might be hard to identify unless you indicate (text, an arrow, etc) which one is you. These are often group pictures. Ask yourself: "What does this picture really contribute to my marketing campaign?" and "What will this communicate to the person I want to attract?"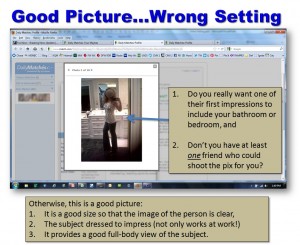 You can download a PDF with some examples by clicking HERE or on this picture >>>>>
Before selecting a photo to use you need to always ask yourself:
"What does this picture really say about me?"
and
"What will this communicate to the kind of person that I want to attract?"
The bottom line on photos is this: Put MORE effort into the photos you will use to market yourself on a world-wide dating site than you would if you were only trying to market your house or car!
YOUR WITNESS
Ok, you have your prose and (maybe) poetry all written out. You have your photos ready and annotated (if needed). Here is your reality check:
Will everything I prepared line up with my relationship with Christ…
OR
Will anything I prepared harm my witness of the Kingdom?
This is critical. Many sites, in their profile construction, have a means for you to ind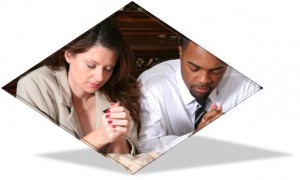 icate your religion/faith. If you are a Christian and you are looking for another Christian then you need to make sure that both your boundaries and your likes line up. That doesn't mean you have to look dull and Amish. It DOES mean you have to walk and talk like a follower of Christ.
For instance, on Match.com, you can state your religion as well as indicate what you are looking for in terms of another's faith. The selection covers a wide range. Leave it blank, on your profile or on the list for your desired profile of a match, and you are telling folks that your faith is NOT important. Same thing if you just select "Spiritual".
Also, there are a lot of folks who indicate interest in Christians for many reasons. Make sure that your interactions (chat, e-mails, even dates) do not compromise your witness. It may be that the other person is actually lost and that your FAITHFUL witness could be used by the Lord to lead them to salvation!
A FINAL WARNING
Chatting, e-mailing, and texting seem to rapidly clear barriers to intimacy, especially barriers that NEED to be there. It is far too common for people to rapidly go from talking about the weather to sharing intimate matters in their online communications.
BE ON GUARD!
Those types of discussions are best left to when the relationship has matured and you are considering engagement and marriage. They are not appropriate for the dating phase. And, they should NEVER be a form of sex/cybersex.
Online dating is a viable alternative to "real world" dating in the 21st Century. Just make sure you are thoughtful, prepared, and faithful!
Check out these other popular posts:
Help us continue to help you!

Just $1/day ($30/month) WILL make a huge impact for tens of thousands of families…worldwide!!!!
Book a
TECH-SAFE HOME™ seminar for parents by contacting us at:
info@knightsquest.org
or 817.715.4074

This fall, Knights' Quest is launching the all-new

TECH-SAFE YOUTH program!

back-to-school event!!

Got a question?Send it in via e-mail!
Subscribe to Blogging The Knights' Quest via:
NOTICE: All communications with Knights' Quest are held in strictest confidence, within the limits of the Law.