You might want to read the beginning of this discussion:
"SINGLE AGAINs" – Part I: The Purity Challenge
"SINGLE AGAINs" – Part II:Transitioning To Singleness Due to Divorce – Dating

"SINGLE AGAINs" – Part IIIA: Your Purity Threat Assessment
"SINGLE AGAINs" – Part IIIB: Your Purity Threat Assessment
It is bad enough to be "Single Again" and have all the internal pressures to be impure, based upon our normal desires and our history of sexual activity. But, in the 21st Century there are a lot of EXTERNAL pressures and temptations to deal with. If we are going to be successful in defeating these threats we need to identify them!
So, let's review our combined list of threats and vulnerabilities, when it comes to sexual purity:
We live in a sexualized society: Sex is EVERYWHERE!
Dating puts us in situations where we can get turned on, big time
We're living on our own (mostly) in terms of being "the grown up in the house"
We are used to responding to advances/kisses/caresses in a way that takes us "around the baseball diamond"
We are used to having sex
We have a history of enjoying sharing intimacy and a bed with someone (i.e. we don't like being lonely)
We may have friends who are urging us to "go have fun!"
Society is encouraging us to have FWB/NSA (Friends With Benefits/No Strings Attached) relationships/sex
It is EASY to get into trouble, especially with all the Internet options!
We've discussed #1 – #6. Now, it is time to continue with #7!!!
#7 WELL-MEANING FRIENDS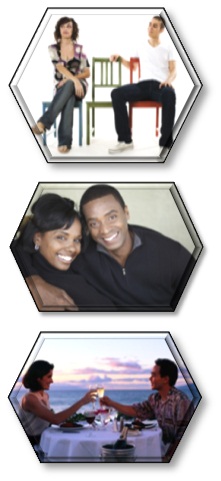 Their hearts are in the right place, I'm sure. They've walked with you through the pain of losing your best friend due to illness or accident, or they supported you through the pain of divorce. Now, they want you to be happy again and are trying to get you to "go out and live a little"!!!
The problem is, some of their advice and actions may be in conflict with your goal of honoring God in your new single life. Your friends are trying to take you out clubbing, get you to join them at singles events, or they are (shudder!) setting you up with friends. (Blind dates…NOOooooo!)
How do you navigate all of this? And how do you not offend your friends and family?
First off, you need to sit down and ask yourself: "What am I looking for, exactly?" This is important, as we can't get what we want if we don't know what that is! I know that sounds pretty basic, but many important things in life ARE basic! So, take three pieces of paper (or three files in your word processor, if you prefer), and make the following three headings, one on each sheet:
What do I want in a relationship?
What do I NOT want in a relationship?
Where will I most likely meet the kind of person I want to connect with?
Under each heading…make your lists! Be thoughtful, and take your time! Then take a moment and read this post:
Date Like You Fish!!! (No, really!)
But, there are more problems your friends may be creating. They may, with good intentions, be pushing you to "think of yourself!" This may take the form of suggesting a wild weekend in Vegas ("We all know what happens in Vegas stays, there, right?") Or, they may try to get you to go on a singles cruise where you can "go wild" and "treat yourself"! You might be encouraged to "experiment".
The problem is that they are encouraging behavior that is in conflict with your faith! Plus, by putting you in such an environment (Vegas, Cabo, Singles Cruises, etc.) they may well be putting you in shark infested waters, be you male or female!
Instead, DO treat yourself to some time away, and do go have fun! But, pick your destination and "atmosphere" carefully, with your witness for Christ always in your mind! Sure, go on a cruise, but not a singles cruise. Or, even better, pick someplace you have always wanted to visit, or attend an event you've always wanted to attend (like, going to see HEART or TOBY KEITH in concert, or check out the Opera!).
It's OK to go have fun, but do not set yourself up when choosing the activity and destination!
And, if your friends keep pushing you up against God's boundaries, it might be time to assess their true value as friends!
#8 SOCIETY'S STANDARDS (or lack thereof)
If you are no longer a child, then you are supposed to make your own rules, and take care of YOURSELF! That is what Society says, LOUD AND CLEAR. Lonely? Feeling a little randy? GO HOOK UP! You are a legal adult! Do what you want! It is OK!
That's the problem with Society. It's part of the World system and THAT means it is firmly in the Enemy's camp!
As a Christian you are no longer authorized to engage in sexual activity with another person until you are, again, married! (And married to that person!) As I've discussed in this series and in other posts, that means NO SEX of ANY kind! A single Christian, whether originally single or single again, may not engage in:
Sexual intercourse
Oral sex
"Manual" sex
Phone sex
Cybersex
Any other kind of sex
Heavy petting (2nd Base and beyond, etc.)
It doesn't matter what your friends say, it matters what GOD SAYS! There is no place in the Christian life for:
Friends With Benefits
Booty Calls
"Sex" Buddies (polite term)
'Net Lovers
As I've discussed, earlier, it is critical to your success as a Christian single to stop, right now, and set your standards and draw your boundaries. Only then can you begin to build your defenses!
For each of the activities that you should NOT participate in, you can be sure that Satan will send a "firey dart" to tempt you! Therefore, you need to examine yourself and your vulnerabilities so you can mount your defenses!
What situations place me in a vulnerable situation regarding my purity, and how do I avoid, or escape them?
What attitudes in the World have I come to accept that are contrary to God?
What suggestions or arguments might be thrown at me, and how will I respond?
Am I ready to dump a new person in my life when their standards begin to conflict with mine?
What do _I_ need to do to avoid tempting the others in my life?
How do I communicate Biblical standards to my dates in LOVE!
Remember: Self-discipline BEFORE marriage is an indicator of character and integrity AFTER marriage!
(Ladies: If you want a man who will be the spiritual leader of the household, date one that is the spiritual leader of the DATING relationship, and who is committed more to Christ than to himself!)
Now, at last, we come to the final area of danger:
#9 SEX TECH!
Technology has really helped us in many ways, but staying pure really isn't one of them!
The range of problems that technology poses is vast. It includes, but is not limited to:
Easy access to pornography.
The allure of adult chat & sexting, which is tied to…
The ease of video, audio, and text-based "cybersex"
The emergence of hook-up sites (as opposed to "dating" sites)
The simple and common access to adult "stores" where you can purchase everything from sexy lingerie to sex toys to adult DVDs.
You don't even have to go looking for these threats. They will come to you, in the form of ads on the sides of web pages, pop-ups, e-mails, and social media marketing campaigns!
There are a number of dangers, but they all share one over-arching threat:
They can become a cheap and easy substitute for true intimacy…
while also becoming addictive!
Think how tempting these are. They further complicate your purity struggles because they offer alternatives so easily… So privately… Late at night, or on weekends, when you are lonely and frustrated, they can call you to a cheap substitute for intimacy.
In addition, becoming involved with such "sex tech" can, and WILL, affect your moral attitudes and your standards. Remember, Satan doesn't ask you to make a major compromise up front. No. He will gradually lead you farther and farther off the Path. You'll find yourself wondering how you got to where you are:
Spending HOURS surfing and downloading pornography online, or viewing it on cable
Chatting and "cyber-ing" with strangers, revealing things you never thought you would
Meeting people in "real space" that you meet online, even though they aren't people you would normally engage with, socially
Becoming interested in sexual activities you never thought you would: Swinging, "friends with benefits", trolling adult dating/hook-up sites, bondage and discipline, etc.
There are some simple ways to defend against such threats. The first and foremost is to filter your ENTIRE NETWORK using a service such as OpenDNS (start with this article: Filtering Your Home Network via OpenDNS: What Parents Need To Know Part I – What is OpenDNS?). That will keep the vast majority of the web-based threats out of the house. Another step is to charge your phones and tablets (iPads, etc.) outside of your bedroom so that you won't be tempted to surf/chat right before bedtime.
Still, you will need to remain vigilant. Look at your online life and your online habits, and consider how you could be tempted, or led astray. Then, write out 2-3 ways you can counter those temptations and those people who may lead you down the path to error!
Life is busy, and as a "Single Again" it may be much easier to "interact" with others via a computer or phone than in real life. That's just a fact, especially given the stresses and demands of parenting, jobs, school, church, and more. But you can't stay plugged in 24/7/365!
It is essential that you learn to regularly UNPLUG FROM ELECTRONICS! It is vital that you maintain "real space" relationships and activities and that you consciously avoid too much time on the Internet, Facebook, Pinterest, Cable TV, etc. Look, NOW…TODAY…for activities and pursuits that get you out of the house that do not involve "dating" and the like. Examples are;
Taking classes: School, karate, home/auto repair (Home Depot has some etc.)
Find a way to serve: Church, food banks, shelters, Habitat for Humanity, etc.
Discover attractions/events near you.
It is important that you don't "unplug from Society", yet it is so easy to do that.
Hopefully these three posts on "threat assessment" give you food for thought in your quest to please God in your new single life.
Next: "Single Agains – Part IV: Single, Social, and a Parent
Check out these other popular posts:
Help us continue to help you!

Just $1/day ($30/month) WILL make a huge impact for tens of thousands of families…worldwide!!!!
Book a
TECH-SAFE HOME™ seminar for parents by contacting us at:
info@knightsquest.org
or 817.715.4074

This fall, Knights' Quest is launching the all-new

TECH-SAFE YOUTH program!

back-to-school event!!

Got a question?Send it in via e-mail!
Subscribe to Blogging The Knights' Quest via:



.
Need articles for your Church Newsletter? Contact us for permission to reprint our articles!
It's

FREE

for Churches and non-profits!
NOTICE: All communications with Knights' Quest are held in strictest confidence, within the limits of the Law.