You might want to read the beginning of this discussion:
"SINGLE AGAINs"- Part I: The Purity Challenge
"SINGLE AGAINs" Part II:Transitioning To Singleness Due to Divorce – Dating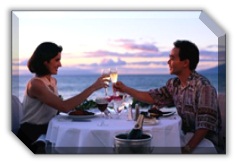 Let's face it: Virgins have it easier than "Single Agains" when it comes to staying sexually pure. That's because:
They don't have habits and responses engrained and on "automatic" due to married life, and
Frankly, they don't know what they are missing!
So, if you are a Single Again and wish to stay within God's boundaries for sex, you have a battle ahead of you.
Well, when I was in the Navy, the first part of dealing with a future battle was the "Threat Assessment". Let's look at what the threat is made up of for a "Single Again"!
Someone who is Single Again and wanting to meet God's standard for purity has a number of vulnerabilities, some are shared with virgins and some are unique. Let's look at the combined list:
We live in a sexualized society: Sex is EVERYWHERE!
Dating puts us in situations where we can get turned on, big time!
We're living on our own (mostly) in terms of being "the grown up in the house"
We are used to responding to advances/kisses/caresses in a way that takes us "around the baseball diamond."
Frankly, we are used to having sex.
We have a history of enjoying sharing intimacy and a bed with someone (i.e. we don't like being lonely).
We may have friends who are urging us to "go have fun!"
Society is encouraging us to have FWB/NSA (Friends With Benefits/No Strings Attached) relationships/sex.
It is EASY to get into trouble, especially with all the Internet options!
With those listed, let's look at our own vulnerabilities and how Satan might exploit them.
OUR SEXUALIZED CULTURE
There are many things in our culture that scream SEX, SEX, SEX! at us. This includes TV shows, movies, clothes, magazines, etc. To remain pure we need to identify the particular threats to us in these areas. Often, they are "guilty pleasures" that you don't want your pastor to know about, such as cable TV series/movies that are R or TV-MA, or books and magazines that are going to get the blood hot. So, answer these questions:
What TV shows do I watch that would tend to fuel the "fires of desire"?
Can I block them by rating or by channel via my cable provider?
What movies do I OWN that I need to get rid of due to "hot" content? (Half-Price books may buy them!)
What magazines do I need to avoid, and is there a check-out line at the grocery I use that doesn't have Cosmo, FHM,and all those others sex-focused titles on display?
What books do I need to get rid of, or pack away? (You and your ex may have had some intimate "how to" books that you really don't need to review right now!)
What MUSIC do I need to avoid? Do I need to pack up some CDs or clear some things off my iPod?
Basically, you are identifying the day-to-day things that will create a "hot input" or "hot trigger". You are doing the sexual equivalent of identifying what tempting foods can cause you to break your diet, and clean out the pantry! (This analogy will grow, trust me!)
DATING DANGERS
After a while you will probably start dating. This may be dangerous, sexually, as you will be with someone you like, someone you are attracted to. Youcan find yourself struggling with a desire to go further than you should because you are USED to reacting to a kiss or a touch in a certain manner. What should you do to prepare for this?
Determine your boundaries, in your own heart, RIGHT NOW!

Kissing
Hand placement/hand holding
"Good nights"

Identify "dangerous" activities that you need to avoid, even if you are an adult! These may include:

Watching TV/movies at home (yours or theirs) WITHOUT proper chaperonage (a 10 year old is PERFECT!)
Entering the other's home/apt "just for a minute". This is the first step to failure!
"Going parking"
Going on dates where you are "alone"

Examine your wardrobe for clothes that might, or probably will, send the wrong message. Ladies, remember how VISUAL men are!
Determine who you will and will NOT date:

Separated folks
Unbelievers
Christians with unacceptable standards/histories
"Players"
Etc.
"I'M A GROWN-UP!"
Just because we are adults doesn't meet it is OK to engage in "adult activity". Society will say "You're a big boy/girl, you can handle it!"
Well, GOD says "FLEE SEXUAL IMMORALITY!" (1 COR 6:18)
You are going to think of excuses and rationalizations for sexual sin because your are over 18, or over 40, or even over 60!
God doesn't buy that, so you need to think up all those lines that either you or your date will bring up, and SHRED THEM with God's Word. The verse above, is a pretty good one! You need to also think, NOW, about how you will respond to these lines and situations.
I will not let my kids take members of the opposite sex upstairs, where the bedrooms are. Boys, especially, are made to feel that this is a sure path to the afterlife! In the same way, if you are living on your own, your entire home should now be OFF LIMITS to members of the opposite sex, at least if you would be there ALONE with them. And, it doesn't count if you and your new date are INSIDE while the kids are playing out back or in the pool! Chaperones need to be IN SIGHT and in the same general space as you! Satan will make evil use of a 10-15 minute window of opportunity! Oh, and being there with another couple who are also dating doesn't count, either, as they are probably not thinking about YOUR purity boundaries!
Basically, you shouldn't be in any situation you wouldn't want your 14-17 year old son or daughter in! (No double standards. You may be "an adult", but you also are more susceptible to temptation, having had a sex life!)
I'll continue this in the NEXT POST!
Check out these other popular posts:
Help us continue to help you!

Just $1/day ($30/month) WILL make a huge impact for tens of thousands of families…worldwide!!!!
Book a
TECH-SAFE HOME™ seminar for parents by contacting us at:
info@knightsquest.org
or 817.715.4074

This fall, Knights' Quest is launching the all-new

TECH-SAFE YOUTH program!

back-to-school event!!

Got a question?Send it in via e-mail!
Subscribe to Blogging The Knights' Quest via:



.
Need articles for your Church Newsletter? Contact us for permission to reprint our articles!
It's

FREE

for Churches and non-profits!
NOTICE: All communications with Knights' Quest are held in strictest confidence, within the limits of the Law.