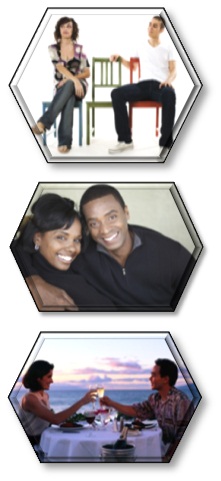 "When is it OK to date, again?"
That's a question that comes up when people go from being married to being single, again, most often when it is due to divorce. Some start as soon as they move out of the house. Some don't think about it, and life just happens. Given the loose standards in our Society, it is a valid question for a Christian to seek a BIBLICAL answer to. Your future and your overall witness as a Christian are at stake, plus there is a specific opportunity to be an example for others by following God's principals.
First, though, let's get one things clear: Those who are "single again" are now called to a life of celibacy until they re-marry. The Bible is clear on sex outside of marriage. That's not negotiable.
So, assuming that you are not divorcing because you, yourself, are already in an adulterous relationship (that's whole 'nother post), when can you start seeing someone, or even begin LOOKING for someone?
Regardless of whether there are children in the marriage or not, the first dating boundary is this:
No dating at all until the divorce is FINAL!
Where does it say that in the Bible? Matthew 5: 27-28. Our Lord says, quite clearly:
"You have heard that it was said, 'Do not commit adultery.'
But I say to you that whoever looks at a woman to desire her has already committed adultery with her in his heart."
Until the divorce decree, you are still married, just like you were single until you were "pronounced man and wife". The marriage ceremony, and the final divorce decree, are clear and sharp boundaries. Separating and/or moving out doesn't change your status. Any dating prior to the finalization of the divorce is, essentially, adulterous in and of itself. You may not be living with your soon-to-be-ex (STBX), but you are still married in the eyes of the world, and in God's eyes.
If you start dating you are going to have some level of desire for the person you are going out with. If not, you probably wouldn't be dating them, right?!?!?!? So, if you are dating someone, it is adultery, whether or not you are having sex.
I realize that this may be a very difficult time. Your STBX may be dating, or even shacked up, and there you sit all alone at home. It doesn't seem fair for you to be all alone while they are having a rip-roaring good time.
Well, aside from the adultery/sin issue, there are several good reasons for not dating until after the decree is final, and these all benefit you in the long term:
After having a relationship come apart, you need time to heal.
During this period you are vulnerable to a "rebound".
Waiting allows you to develop perspective and examine what you want in a future relationship.
Waiting allows you to be used by God for His Kingdom's advancement.
RECOVERY!
Let's face it: Divorce sucketh (KJV). It hurts. It devastates. It causes us to doubt ourselves, doubt others, and sometimes even doubt the love of God. Divorce goes off like a nuclear bomb in our lives.
Even in the "best of divorces" there is a need for everyone to spend time as a single in order to re-establish who they are. For years you have not just been me/myself/I, you've been part of a couple. The two became one, and now, with the divorce, the term "tear asunder" is very appropriate. The bonds of emotion, intellect, and identity have been ripped apart and there stand open wounds that need time to heal. You may have doubts about yourself. You may (MAY?) harbor a lot of bitterness. There is the normal grief process due to the loss of your ex, and your former life. All this is a mess, and you need to deal with it before you start dating so you don't take that mess into the NEXT relationship, or allow it to drag you down into becoming bitter and aged!
After all that time you spent together with your ex or STBX you now have to readjust to just being yourself, and that will take time. You probably have changed over the years. In fact, that is a certainty. If you married young or old, and you are now around 30, or 50, or 70, then you need to discover who you are TODAY, and who you want to become. To do that only requires four simple, but not easy, steps:
Spend time with God, both in prayer and in the Word, and with His people.
Seek the advice of wise and godly counselors. (Note the plural!)
Spend a lot of time doing Christian self-assessments and trying new things.
Be patient until you are comfortable with who you are and who God's wants you to be.
Pray, NOW, for your future and for your future life, be it married or single.
The Bible is clear. God has compassion on us. Psalms 147:3 says that He "heals the broken-hearted!" We must let God heal us of our wounds, for we are wounded.
Divorce destroys our world. It often destroys our identity and self-esteem. While dating can provide a "quick fix" to our emotional pain, we do ourselves and God's Kingdom a disservice when we re-enter the dating battlefield without being healed up. You wouldn't expect a badly wounded soldier to go back out on patrol without being healed, would you?
Remember, you are part of God's Army. He needs you at 100%.
DEFENSE!
We've all seen this character in the movies – The SNAKE that preys on widows and soon-to-be divorcee's. Whether male or female, this predator is someone we've all seen in fiction or, quite possibly, in real life. The best example I know of this guy or gal in the movies is the character "WINSTON BURR" in the old Doris Day/Rock Hudson comedy SEND ME NO FLOWERS! (available on Netflix if you wish). The late Hal March played this role to perfection, calling on vulnerable women within hours of hearing that they are divorcing/separating, and bragging to his mates how easy the pickings were. He's so slimy you want to wash the TV after the movie!
Yet, WINSTON (and WINNIE) BURR are very real characters that those who are soon-to-be-single have to watch out for, even in the Church. They play all the right cards to develop their relationships so they can get whatever it is they are seeking (often, but not always sex). The problem is that they are not always as smooth and slimy as depicted in the movies, so waiting before dating allows you to get past your emotional turmoil from the separation and divorce process and get your defenses established. You need to have your eyes, and head, clear as a bell before stepping into the dating arena again, especially since it has changed since you were last there!
Besides avoiding the WINSTON BURRs of this world, you need to make sure that you are able to stand on your own as half of any future relationships, and that takes time. You need time to learn to walk, talk, live, and think on your own. If you don't you are not being fair to your future spouse, if you remarry. Either you won't be able to carry your load or the relationship will be founded on unhealthy dynamics. Yes, it can be very appealing to rush back into a relationship, to have that warm body nearby, that person who keeps us from being lonely on Friday night. But it sets us up to fail, and we have enough going against us!
ASSESSMENT!
After you've healed up and avoided the immediate dangers rebound dating the task of assessment comes into play. After any major change in life it is wise to do what the military calls an "After Action Review". These reviews look at an operation or event to see what was done well, and what could be improved upon. So, we need to do the same assessment on our relationship with our STBX and the marriage as a whole.
This is a good time to apply Romans 12:2:
"Do not conform any longer to the pattern of this world, but be transformed by the renewing of your mind. Then you will be able to test and approve what God's will is—his good, pleasing and perfect will."
Up until now, your world included your EX or STBX. That relationship affected everything in your life. Now you must be transformed into a Godly single and seek out His plan. This is not just about dating and sex, but also must include finances, goals, church activities, and all other aspects of life. Before you can be transformed, you have to know what you are starting with. Therefore, this assessment has to be honest and broad and must include:
Assessing the past relationship and what contributed to its demise (both of you contributed, in most cases).
Assessing your EX or STBX to understand any characteristics and warning signs that you may have missed when you were dating them. (BTW: Premarital sex has a way of masking those kinds of signs!)
Assessing your own input into the marriage and how that may, or may not, have aligned with your EX's or STBX's needs and desires in the relationship (all needs and desires, not just sex/intimacy).
Assessing your own emotional and spiritual make-up, so you can understand what traits you bring into and also need to find in a future relationship.
Assessing what personal development you need to undertake to become who God wants you to be and who your future spouse needs you to be.
This kind of self-examination is tough. Don't try it on your own. Instead, seek out Godly counselors, attend Christian recovery programs (watching out for snakes), and possibly even go to a counselor. I cannot recommend strongly enough the CELEBRATE RECOVERY program founded at Saddleback Church. But, if you understand who and what you are NOW, and how you got to where you are in your life, then you can begin the journey God has for you.
MOVE OUT!
I belong to one of the World's most successful business networking organizations. It's motto is: GIVERS GAIN! That's a good motto to have while transitioning into a Godly single. It may not make sense, at first, but we often gain so much when we step outside of ourselves and serve others. It is far too easy, when we are hurting, to retreat from life, to go off on a new adventure to anesthetize our pain, or to "get what we deserve". That leads to sin for it is, inherently, a selfish viewpoint. Instead, we should focus outside of ourselves, and serving God should be our goal. While we are in transition from married to single we need to get with the team and get busy for God!
In the sixth chapter of Matthew, Jesus talks about "worldly happiness". He sums up His teaching with a simple statement:
"But seek first his kingdom and his righteousness, and all these things will be given to you as well."
We want many things in life: Love, security, provision, intimacy, safety. We aren't to seek these out, but we are to trust Jesus to provide for our needs while we serve Him.
As I've mentioned, those who are "single again" are in a new status, a new phase of life. Waiting until after the divorce is final enables us to be active, serving God, while He "binds up our wounds". We can heal our hearts by serving others.
Waiting until after the divorce is final will also provide opportunities to witness and share your faith. The question of dating will come up with your friends and co-workers (some may already be working on that first blind date for you)! How might God use your testimony that you are going to be obedient to God and stay "off the market" even if Society says that it doesn't matter? Who might be led to Christ because of your sacrificial respect for God's boundaries?
And, what Godly man/woman may take note of your commitment to God and your self-discipline and therefore wait until the proper time to pursue a like-minded woman/man… YOU?
In Part III we look at some issues that Single Agains face when they start dating.
How is your church ministering to Single Agains?

Share what you are doing to help those
widowed and divorced live pure lives?


Let us know by leaving a comment!
Check out these other popular posts:
Help us continue to help you!

Just $1/day ($30/month) WILL make a huge impact for tens of thousands of families…worldwide!!!!
Book a
TECH-SAFE HOME™ seminar for parents by contacting us at:
info@knightsquest.org
or 817.715.4074

Add the

TECH-SAFE YOUTH™ program to educate youth about the Biblical purity in our technologically driven world!

Got a question?Send it in via e-mail!
Subscribe to Blogging The Knights' Quest via:



.
Need articles for your Church Newsletter? Contact us for permission to reprint our articles!
It's

FREE

for Churches and non-profits!
NOTICE: All communications with Knights' Quest are held in strictest confidence, within the limits of the Law.