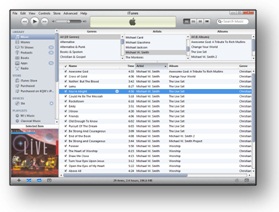 If you haven't read Part I of this series, yet, you can find it right HERE!
As we saw in Part I, iTunes and the iTunes Store enable access to a wide range of material.  Some is suitable for children and youth, some is not.  This is no different from a "brick and mortar" store such as Barnes and Nobel or Borders, or an online store such as amazon.com.
If we are to be conscientious parents, then, we need to understand what we can do to set boundaries for our children who use iTunes and purchase items from the iTunes store.  Fortunately, Mr. Jobs and his team have provided a set of Parental Controls to help out.  So, let's look at how we set boundaries for our children's use of iTunes and related devices!
The most basic part of iTunes, after the program itself, is the ACCOUNT.  Without an account you can't purchase items at the iTunes store, even with gift cards.  So, make sure that you have a hand in setting up your children's iTunes accounts so that:
You have the logon information, and


.

You get a copy of all purchase receipts.
Then, make sure that accounts for children (and possibly adults) do not have credit card or bank accounts set up for paying for purchases.  Instead, I recommend using gift cards to maintain a desired balance.   There are two reasons for this:
Apple has, unfortunately, suffered from hacker attacks that may have compromised customer information.  This is not unique to Apple (while working on this article I caught a report that the PlayStation Network is down for the 3rd day due to hacker attacks).


.

You can't spend more than you've already spent on the gift card.  That helps you budget your children's purchases (and your own, too).
Once you are up and running with an account, AND have all the login information, you can set up Parental Controls.  To do this, start iTunes and then click on the EDIT >>> PREFERENCES links in the menu at the top.  Then click on the yellow PARENTAL icon at the top of the window that appears.  There you can set restrictions on:
Movies (set the desired most mature rating – PG-13, R, etc.),
TV shows (set the highest desired rating – TV-PG, TV-14, etc.)
Apps (set age levels – 4+, 9+, etc.), and
Restrict all media labeled as "EXPLICIT" by the provider or by iTunes.
You can also completely disable podcasts, iTunes radio, Ping, access to shared libraries, and the iTunes Store, itself.  Note that you have the option of retaining access to the iTunes University.  What you select will depend upon your family's situation and concerns.
This is a

GREAT

set of parental controls!!!
By setting all four of these boundaries appropriately you can establish boundaries on almost all products on the iTunes Store site.  This is not a perfect solution (what is?) as there remain some vulnerabilities and particulars that parents need to understand.
Setting the

RESTRICT EXPLICIT CONTENT

boundary works on all types of media except iBooks.


.

These controls do not, from my testing, appear to impact access to adult material in the iBooks Store.  iBooks are accessed via apps on the chosen iGadgets (iPod, iPad, etc.).  iTunes is merely used for back-up purposes.  For iBooks I have not found any controls.


.

These only work for a single installation of iTunes software, on a single computer or computer account.  Therefore, if you have your iTunes account set up on more than one computer (say an upstairs and a downstairs computer, a home and a lake house computer, etc.) these restrictions  will not be set, automatically, from one computer to the next.  This means that, if each child has their own computer account (RECOMMENDED) then the settings need to be established for each separate iTunes library on each computer account.


.

THE LOCK: If you click on the little padlock in the lower left you can lock these settings with the password for your administrator account on the computer.  The problem is this: If the child's account has administrator privileges (NOT the best of ideas, anyway), no password is required to unlock the controls, allowing them to change settings at will.  I preferred an earlier implementation of this lock mechanism that let you have a separate password that was not related to system passwords.


.

Make sure that when you update your iTunes software that none of the settings are changed.  It has been quite a while since I've seen this happen, but it is simple to verify when you update.
So, while iTunes does provide potential access to material unsuitable for to children and youth, Steve Jobs and his team have provided parents with a great set of parental controls.  My hat's off to them!
Those who want to lock down iPod Touches, iPhones, and iPads should read my blog posts on those devices:
GEEK INFO:  The version of iTunes used in this investigation is Version 10.2.2.12, installed on two PCs running Windows 7, Build 7600.
What are your thoughts?

Share your ideas about iTunes and parental controls!


Let us know by leaving a comment!
Check out these other popular posts:
Help us continue to help you!

Just $1/day ($30/month) WILL make a huge impact for tens of thousands of families…worldwide!!!!
Book a
TECH-SAFE HOME™ seminar for parents by contacting us at:
info@knightsquest.org
or 817.715.4074

This fall, Knights' Quest is launching the all-new

TECH-SAFE YOUTH program!

back-to-school event!!

Got a question?Send it in via e-mail!
Subscribe to Blogging The Knights' Quest via:



.
Need articles for your Church Newsletter? Contact us for permission to reprint our articles!
It's

FREE

for Churches and non-profits!
NOTICE:  All communications with Knights' Quest are held in strictest confidence, within the limits of the Law.