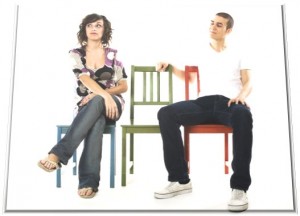 You could tell she was upset.
There were two co-workers who were obviously in a gay relationship that sat nearby and it bothered her.
It made her angry.  She asked what I thought about it, and if it made me angry.
Me?  I do not get "angry" about such.  I'm more concerned about the millions of STRAIGHT sexual sinners out there who are all around me!  You know, all those adulterers and fornicators sitting in the cubicles, and pews, all the time.
I think that Satan has SNOOKERED us into getting mad and feeling threatened about the gay community to the "benefit" of heterosexual sinners! When is the last time you heard any condemnation of STRAIGHT sexual sin?  Instead, we are worked up about sin involving 3% of the population and then pretty much ignore the sin that threatens the  other 97%!

So, I think that the Church, the people in the pews, need a new attitude, and maybe NOT the one you think!
First off, WHY did Jesus come to Earth?  So we could relate to Him, learn from Him, and so He could pay the price for our sins.  Jesus rarely "flamed" anyone who came to see him.  When He did, it was mostly "church folk". (OK, "synagogue folk" <grin>)
When He encountered those ensnared by sin, those "everyday kind of folk", Jesus was strong, yet compassionate.
As told in the Gospels, Jesus personally encountered more than one "sexual sinner":
The woman at the well in Samaria
The woman caught in adultery
The prostitute who washed his feet and annointed his head with oil
In each case Jesus was compassionately steadfast in His recognition of each person's sin.  Yet, Jesus was also steadfast in His LOVE of the sinner and His desire for reconciliation.
Jesus didn't let social barriers get in the way, either.  It is  instructive to note that Jesus dealt only with sexual sinners who were women (those who were most vulnerable, and injured, in any culture).  He also dealt only with heterosexual sin.
Not only did Jesus have encounters with obviously sinful people, but He raised the bar on what sin was by redefining adultery as a "heart-sin" and not just a physical act.  Jesus set a high moral standard for us.
We should be like Him when we encounter sexual sinners, too:  Unwavering in the Standard, but compassionately focused on reconciliation of the sinner's heart through the Cross.  And, we need to keep one eye in the mirror, the one we look into each morning.  Galatians 6:1 and 1 Corinthians 10:12 apply….to us.
To paraphrase the old comic strip, POGO:
"We have met the sinners, and they is us!"
Sex outside of marriage, either before or after the wedding vows, is sin.
So is thinking and imagining it.  Just look at Matthew 5:27-28.
What do you think?
Now, on to PART II!


Check out these other popular posts:
Help us continue to help you!

Just $1/day ($30/month) WILL make a huge impact for tens of thousands of families…worldwide!!!!
Book a
TECH-SAFE HOME™ seminar for parents by contacting us at:
info@knightsquest.org
or 817.715.4074

This fall, Knights' Quest is launching the all-new

TECH-SAFE YOUTH program!

back-to-school event!!

Got a question?Send it in via e-mail!
Subscribe to Blogging The Knights' Quest via:



.
Need articles for your Church Newsletter? Contact us for permission to reprint our articles!
It's

FREE

for Churches and non-profits!
NOTICE:  All communications with Knights' Quest are held in strictest confidence, within the limits of the Law.