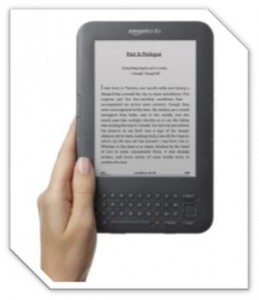 You might want to read PART I, first.
The Kindle is probably going to arrive under some Christmas Trees in a couple of weeks. Personally, I LOVE Kindle.  I'm an avid reader and it is a great new advance in publishing and book-buying!
But, if you read my previous blog, "AMAZON KINDLE: WHAT PARENTS NEED TO KNOW", you discovered that a LOT of inappropriate materials are available through the Kindle Store.  These materials are definitely NOT for children.
Well, the Kindle device itself is not your only vulnerability.  There are many great ways to access our e-books, including:
The Kindle device itself
iPods
iPhones
iPads
Android phones
Android tablets
Blackberry phones
Windows 7 phones
Windows computers
Mac computers
Let's look at how these other Kindle-enabled devices interact and talk about how to protect and parent our kids given the new electronic publishing frontier.
The ability to read Kindle books merely requires software that enables a device to access your Kindle account on Amazon.com, download your books, and then read them.  You Kindle account can have up to five (5) devices assigned to your account.  That lets you have access at home via your Kindle Reader, on the plane via your phone, and in the hotel via your laptop or iPad.  Not only can you download your Kindle books to these devices, but it is possible to sync them so that they all know what you are reading, where you left off, and any notes you may have made, etc.  This is done through each device's link to the Amazon.com Kindle Store.
PORTABLE DEVICES
Getting access to Kindle on portable devices merely a matter of downloading and installing the appropriate version of the Kindle App.  To read Kindle books on either Windows PCs or on Apple Macs a person only has to install the software for that type of operating system.  These all access your Amazon.com Kindle account, and you don't even have to own a Kindle device!  These apps, by-the-way, are FREE!
So, even if you don't have a Kindle device you might want to be proactive in talking to your kids about proper "Kindle Safety".  This begins with making yourself aware of any Kindle installations on your child's, or family's, devices. This is very easy.  On portable devices, just look for the Kindle icon.
Tap the icon and you will see the home screen.  Here is what it will look like on an iPod Touch or iPhone:
On an iPad it will look like this:
NOTE

The "covers" of the books may, or may not, be "safe".
That is why the first cover on the iPad screenshot has a blue circle on it.
Whatever device you are checking, the HOME screen will show a list of books, with book covers.  It's not hard, then, to see if inappropriate material is on the device.  If it is, you must delete it, but that is not as simple as it sounds.
Remember when I said that these "sync" among themselves through the Amazon.com Kindle Store?  That means that if you find an objectionable product (book, magazine, etc.) and you delete it from the device, it has only been relegated to the online ARCHIVE from where it can be reinstalled.
To fully delete a file you must delete it from all devices and THEN delete it from the archive.  This is a multi-step process that does not lend itself to a blog, so you can find a basic guide, using the iPad as the example, here.
Unfortunately I have not found any "EXPLICIT" tagging system in the e-book field like they have at the Apple iTunes Store, but I expect that to change.  Make this an issue with Amazon.com (or BN.com if you use the NOOK) and that will speed things up.
Remember, there is NOTHING WRONG with Kindles or Kindle-enabled devices.  Don't forget these basics:
Children should not set up their own Amazon.com/Kindle accounts.
The e-mail account that gets sales/download receipts should be accessible only to parents.
Do not provide a credit card for payment.  For safety and control redeem Amazon.com/Kindle gift cards, instead.
Parents should have separate Kindle accounts than children.
Kindle readers, and similar devices, are a logical step in the development of the"printed word.  But, 21st Century parents have to be aware of their vulnerabilities as well as their benefits.  In a brick-and-mortar bookstore there are books and other products that are inappropriate for children and we'd protect them, there!  As our children use more and more connected devices we need to protect, and educate, the family from these unexpected vulnerabilities.
What do you think?
.
Check out these other popular posts:
Help us continue to help you!

Just $1/day ($30/month) WILL make a huge impact for tens of thousands of families…worldwide!!!!
Book a
TECH-SAFE HOME™ seminar for parents by contacting us at:
info@knightsquest.org
or 817.715.4074

This fall, Knights' Quest is launching the all-new

TECH-SAFE YOUTH program!

back-to-school event!!

Got a question?Send it in via e-mail!
Subscribe to Blogging The Knights' Quest via:



.
Need articles for your Church Newsletter? Contact us for permission to reprint our articles!
It's

FREE

for Churches and non-profits!
NOTICE:  All communications with Knights' Quest are held in strictest confidence, within the limits of the Law.