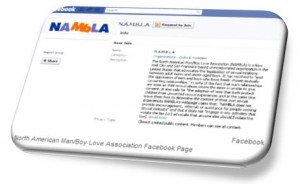 The recent revelation that groups advocating pedophilia were using FACEBOOK™ both to advance their agenda and exchange information on how to molest children was shocking to many. Groups such as the North American Man-Boy Love Association (NAMBLA, a legal lobbying group in Washington) were using FACEBOOK™ to spread their message that sex between consenting adults and "consenting" children was "beautiful" and should be legalized. FACEBOOK™ pages were also being used to exchange information on how to "identify, target and reel in child victims".
Soon after FOXNEWS' exclusive reporting on the issue (found HERE) FACEBOOK™ announced that it was deleting such pages (see article HERE). Unfortunately, as seen in FOXNEWS' follow-on story, the pedophiles were already adapting to this threat to their "Free Speech".
And, the danger posed by online pedophiles is hardly restricted to FACEBOOK™. Why FOXNEWS reported only on FACEBOOK™, there are other avenues that predators are successfully using to connect with our kids.
What's a parent to do in the 21st Century?

Many parents' first thought upon reading the FOXNEWS article was to ban their children from FACEBOOK™ and other social networking sites. This is impractical in 21st Century America as so many good organizations that our children are involved with use FACEBOOK™ as a communications tool: School teachers, bands, religious youth groups, athletic teams, Boy Scouts, Girl Scouts, etc.
FACEBOOK™ is part of our children's world. It is neither good or evil, by itself. It's moral value is dependent upon how it is used and how it affects our children.
Social networking safety is the 21st Century equivalent to 20th Century "traffic safety". Our kids could get hurt just crossing the street. Did we keep them in the house in a "bunker mentality"??? No! We taught them how to be safe, to look both ways, to cross only at corners. We taught them safety rules for the physical world around them, and around their home.
Parents, today, need to do the same thing for the online world. We need to teach the safety rules for the virtual world that our children inhabit. That includes some basics principals:
Parents should monitor what is going on with their children online. That could be by having their children's passwords and "snooping" or using software such as NET NANNY or SPECTOR PRO to monitor activity. (For more info on these programs visit the Knights' Quest web site here.)


.

Children wouldnt' talk about personal things to a stranger at the mall in real life, so teach them not to talk to strangers online,

socially

. This could be an issue as our children, especially 'tweens and teens, use game discussion groups (forums) and play pick-up games online, thereby interacting with strangers by default.


.

If a child is participating in a forum or online discussion/game they should always be mindful to keep to the "business at hand". If the forum is about STARCRAFT II, then discussions should ONLY be about STARCRAFT II, or if they are seeking clues on how to win level 15 on ZELDA, they should only talk ZELDA!


.

When children are playing online "pick-up" games on networks such as X-BOX LIVE and the Sony PLAYSTATION NETWORK they should also just keep discussions to the game. Caution them about revealing too much in "the heat of battle". If they are playing a pick-up game of HALO on X-BOX LIVE then they need to keep the trash talk "professional" and not discuss personal matters such as school activities, what city they live in, upcoming vacations, etc.


.

Children should have screen names that are in no way related to their real names, schools, location,etc.

.




.

Just because someone is a "FRIEND" of a real-life friend doesn't mean that their real-life friend

really

knows

who

that online friend is. Children and teens should not "FRIEND" people based on another person's recommendations.


.

Limit time on social networks and on the Internet as a whole. Kids need interaction in "realspace" as well as "cyberspace". They also need the exercise. (Net Nanny, Windows VISTA & 7, and MAC OS X parental controls can help with this.)
It's easy to panic with headlines such as those in the FOXNEWS articles. Instead of panicking, parents are more effective when they educate and equip themselves to deal with these new 21st Century threats.
Share your thoughts!

How are YOU dealing with Social Networking in your home?
In addition, here are some additional articles that might be helpful:
Help us continue to help you!

Just $1/day ($30/month) WILL make a huge impact for tens of thousands of families…worldwide!!!!
Book a
TECH-SAFE HOME™ seminar for parents by contacting us at:
info@knightsquest.org
or 817.715.4074

This fall, Knights' Quest is launching the all-new

TECH-SAFE YOUTH program!

back-to-school event!!

Got a question?Send it in via e-mail!
Subscribe to Blogging The Knights' Quest via:



.
Need articles for your Church Newsletter? Contact us for permission to reprint our articles!
It's

FREE

for Churches and non-profits!
NOTICE: All communications with Knights' Quest are held in strictest confidence, within the limits of the Law.