Every day I have at least one struggle with the temptation of sinful lust!
Many tempting things can trigger this inner battle:
A woman dressed in a revealing or provocative manner.
A woman acting "flirty" or affectionate in public.
Messages on T-shirts, shorts, and bumper stickers
Billboards
Certain songs
TV shows
Commercials
Movies
Internet ads
Suggestive or revealing pictures in the news, and in articles on news web sites.
Just living and breathing in America!
It's a fair bet that 99.999% of the adult males on the planet share my struggle, too!  I'm not sure about the percentage of adult females, but in America that number is probably rising!
So, why do I struggle with these things?  If we look we will find that the answer is in the wisdom of that famous Blue Collar comedian, Bill Engvall:
"I'M A GUY!"
Oh, and I also have a sinful nature that will not be completely neutralized until Jesus makes me perfect.  In the meantime, I'm stuck here, on Earth, trying to live obediently in a HIGHLY sexualized society.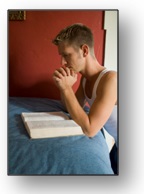 This begs the question:  How does a Christian man resist traveling down the paths, mental or physical, that these white-hot darts of temptation lead to?
Well, first, you have to admit you are one of the 99.999% and that you want to survive on this battle, that you want victory!!!  Then there are other active measures you can take and habits that you can develop to strengthen your walk.  Here are a few that I have found to be helpful over the years.

PRAY!!! When you see an object of temptation (woman, book, commercial, accidental porn site,
etc.) PRAY!!!  Right then!  Right THERE!  Pray for those being used by Satan to tempt you to sin (the girl on the billboard, in the movie, etc.).  Pray that they would come to know Christ.  Pray that they would be protected from harm. Pray for their current/future marriage.  JUST PRAY FOR THEM!
Many years ago a preacher told me:
"When you see a pretty girl that could make
your mind go a-wandering:  Pray for her!
First, praying occupies your mind,
making it harder to fall into sinful lust.
Second, you might be the only person praying for her.
Lastly, Satan HATES it when you pray!"
LIMIT YOUR EXPOSURE:  Don't go "casually" walking by the "erotic thriller" section of the bookstore or video store.  Don't "play" at the boundaries.  Make a conscious decision to avoid the minefields around you!  Examples of this are:
When at the gym, pick machines not facing the ladies' aerobics class, or the ladies on the treadmill,etc.
Avoid magazine stands/racks.
When shopping with your wife, don't go near the changing room (you don't need a steady stream of women going by).
When faced with an interaction with a woman who is either dressed inappropriately (or is just plain HOT!), exercise discipline with your eyes and only look at

her

eyes
Avoid late-night TV temptations (even some of the

commercials

are R-rated!) then stay away from the TV late at night.
Don't  surf the Internet late at night, either.  Remember, the later it is, the more we "go stupid".
PARTNER WITH YOUR PARTNER: Let your spouse, or an accountability partner, have the access codes to your computer and TV filters.
INCREASE QUIET TIME: Meditate and pray on the Scriptures during down-times, or when alone. Read inspirational material, listen to Christian music, etc.  Ask her to pray for you and your purity!
NURTURE YOUR RELATIONSHIPS: If married, pay attention to your spouse – not just physically, but spiritually and emotionally as well. Always keep the lady in your life on a pedestal to be honored and protected as the Child of God that she is.
TRUST GOD: If you are single, or are a "geographically single" husband, ask God to remove your desires until the appropriate time.  You can trust Him to return them to proper levels when the time is right…in HIS eyes!
The secret is to be "taking every thought captive to the obedience of Christ".  Very easy to say and very difficult to do.
How do

you

, married or single, resist sinful lust?
.Check out these other popular posts: 
Help us continue to help you!

Just $1/day ($30/month) WILL make a huge impact for tens of thousands of families…worldwide!!!!
Book a
TECH-SAFE HOME™ seminar for parents by contacting us at:
info@knightsquest.org
or 817.715.4074

This fall, Knights' Quest is launching the all-new

TECH-SAFE YOUTH program!

back-to-school event!!

Got a question?Send it in via e-mail!
Subscribe to Blogging The Knights' Quest via:



.
Need articles for your Church Newsletter? Contact us for permission to reprint our articles!
It's

FREE

for Churches and non-profits!
NOTICE:  All communications with Knights' Quest are held in strictest confidence, within the limits of the Law.